Turner roughed up as Marlins drop rubber game
Turner roughed up as Marlins drop rubber game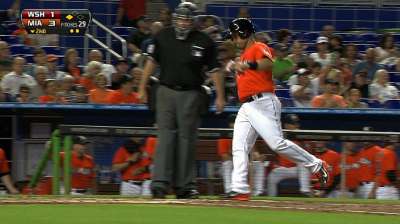 MIAMI -- After taking the series opener, the Marlins were primed to play the role of spoiler. Instead, they were left frustrated.
Though not at his sharpest, Stephen Strasburg was backed by plenty of run support, and the Nationals rallied past the Marlins, 6-4, on Sunday afternoon at Marlins Park.
Ryan Zimmerman and Wilson Ramos each homered, and Ian Desmond delivered two RBIs and was a home run shy of a cycle.
The Marlins let an early two-run lead slip away, and their pitching wasn't able to slow down the Washington offense. The Nationals rebounded from being blanked 7-0 on two hits on Friday in a Jose Fernandez start to claim two of three, and remain within striking distance of the second National League Wild Card spot.
"It's definitely disappointing," Marlins manager Mike Redmond said. "Any time you get three innings and four innings out of your starters, that's tough. That makes it tough on the bullpen. It makes it tough just on momentum -- especially after Jose goes out there and pitches that first great game in Game 1. Then, we were just not able to capitalize on that momentum."
The Marlins were playing without Giancarlo Stanton, who aggravated a sore right ankle. The 23-year-old slugger is doubtful to be ready for Monday against the Braves.
Batting fourth in Stanton's place on Sunday was Justin Ruggiano, who had a three-hit game.
But it was a struggle from the start for Jacob Turner, who surrendered solo homers to Ramos and Zimmerman. Turner allowed five runs on nine hits in four-plus innings, his shortest outing in 18 starts.
Turner's subpar outing came the day after Nathan Eovaldi was lifted after three innings in Saturday's 9-2 loss.
"The starters have got to get us deeper into games, and give us a chance," Redmond said. "We've got a lot of guys down in that bullpen, but we can't be throwing five and six guys a night and expect to give ourselves a chance."
The Nationals, in survivor mode in the playoff chase, responded with 11 hits on Sunday after they put up 16 hits on Saturday.
"It's really frustrating," Turner said. "Obviously, the team, in order to get the lead was battling. Then, to give it back, it's frustrating. That's about all I can say."
It wasn't a vintage Strasburg performance, as the right-hander had the rare distinction of balking home two runs in the same inning. The right-hander gave up four runs and struck out seven in six innings.
While Miami had its chances, Strasburg was effective enough to improve to 6-3 in his career against his division rival.
"I wouldn't say that's the best I've seen him," Redmond said of the Nationals' ace.
Washington battled back from two runs down to tie it at 3 in the third inning. They would go ahead for good in the fifth inning, when they added a pair to make the score, 5-3.
"I liked the way our lineup's swinging the bat," Nationals manager Davey Johnson said. "It was a big day for Ramos -- he's been swinging the bat well."
Desmond singled and stole second to open the fifth. When Desmond raced toward third base, Placido Polanco dashed over to cover the bag. But the play turned into a well-executed hit-and-run, as Ramos bounced an RBI single through the spot Polanco vacated.
"It's just something where I'm not making the pitches when I need to make them," Turner said. "The biggest thing is, I'm not commanding my fastball the way I need to. It's very frustrating, but it's something I've got to work through. Hopefully, in my next start it will be better."
Ryan Webb relieved Turner, and the Nationals tacked on an insurance run on Anthony Rendon's RBI triple.
The Nationals opened the scoring on Ramos' home run to open the second inning. The lead didn't last long because the Marlins manufactured three runs during a bizarre second inning. Two of the runs were awarded home on a pair of balk calls against Strasburg.
Entering the game, Strasburg had one balk all season -- and in his career.
Ruggiano and Logan Morrison opened the second inning with singles. Polanco walked to load the bases. Strasburg's first balk scored Ruggiano to tie the game at 1. Adeiny Hechavarria tapped a slow roller toward Strasburg, whose only play was to first base. Hechavarria was credited with an RBI on his groundout.
With two outs, Strasburg balked again with Chris Coghlan at the plate, bringing home Miami's third run of the inning.
"We had a couple of breaks with the balks," Redmond said. "We still had guys in scoring position. We were a two-out hit away a couple of times [from] putting some runs across and being able to take the lead in that game. I know we didn't leave a ton of guys on base, but we did have some opportunities -- where if we had a couple of big hits, we take the lead and probably win that ballgame. We've been there before."
Joe Frisaro is a reporter for MLB.com. He writes a blog, called The Fish Pond. Follow him on Twitter @JoeFrisaro. This story was not subject to the approval of Major League Baseball or its clubs.