Bucs blanked by Cards, slip to second in Central
Bucs blanked by Cards, slip to second in Central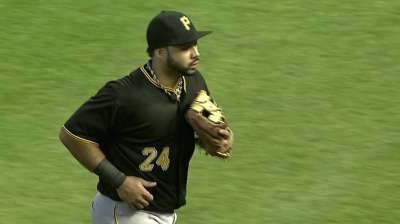 ST. LOUIS -- The low-hit Jeff Locke was back Saturday night. If only he had been accompanied by the low-walk Locke, the Pirates could have had a better shot at that elusive 82nd win and staying in first place, too.
Locke wasn't, they didn't and they aren't.
With St. Louis ace Adam Wainwright ending his own pitching slump in more dominant fashion by blanking the Bucs on two hits for seven innings, the Cardinals upended the Pirates, 5-0, to push a half-game ahead of them in the National League Central standings.
Both teams have wary eyes on the Reds, who beat the Dodgers for the second straight day and lurk in third place, 1 1/2 games behind the Cards and one behind the Bucs.
Welcome to September Sizzle: After the conclusion of Sunday's series finale here, the Pirates could be moving on to Texas in first, second or third place in the division.
If the Bucs wanted a fight, boy, they've got one. They did not raise the Jolly Roger for an 82nd time, but did raise the stakes for Sunday's final regular-season matchup against the Cardinals.
"A week ago, we took a series from them and moved into first place," Pirates manager Clint Hurdle said. "Now it's a week later, and they move into first. We expected to be here, and we don't expect to go away.
"But we know we've got to play better. We need to put a foot down [Sunday]."
"We know that the standings are there, we know where we are, we try real hard not to pay a whole lot of attention to it just because there is so much time to go," countered St. Louis manager Mike Matheny. "We take care of business, and play the game the right way."
Locke allowed three hits in five innings, but a leadoff walk -- one of four walks he issued -- and a leadoff hit batter both came around to score to lower him into a 3-0 hole when he departed.
Hurdle drew encouragement from the return start of his first-half ace and All-Star, who had been skipped a turn and thus was taking the mound for the first time since Aug. 27. The manager urged perspective.
"Big picture, there was a lot of improvement in a lot of different areas," Hurdle said. "We didn't score a run, so ..."
So, realistically, Locke could have turned into Sandy Koufax and still gotten no better than a draw.
Perhaps the Bucs could still have had a chance by cloning Andrew McCutchen, who had both of the hits off Wainwright -- who walked two and struck out eight, the first of which was career strikeout No. 1,096 to pass Dizzy Dean for second place on St. Louis' all-time list, behind Bob Gibson.
"He kept his pitches down, took advantage of the calls and that was about it," McCutchen said of Wainwright.
In the Pirates' estimation, Wainwright quickly grasped plate umpire Larry Vanover's strike zone and threw to it. This was not meant as criticism of the arbiter, but as a prop to the pitcher's ability to adapt.
"He got a low strike zone, and he wore it out," Hurdle said. "He was down in the zone all night long. The breaking ball played so well early that, later, you gotta look for it, and the fastball was beating us."
As for his own guy: "Finding the strike zone didn't seem to be a challenge [for Locke] -- but he was trying to find where the strikes were."
Locke himself shrugged off the idea that being unable to define Vanover's strike zone hampered him.
"Ahh ... no. I know it'll always be in the middle of the plate," Locke said. "I don't make the calls, that's out of my control."
The offensive surge that would have made a tentative Locke good enough was not forthcoming against Wainwright, who breezed where the Pirates' pitcher staggered. Example: After Locke labored through a 27-pitch second, Wainwright set down the Bucs on 10 pitches in the third, forcing his opponent back to the mound after a short break. Locke worked around Wainwright's leadoff double that inning to keep the game scoreless.
Next up, Wainwright stood up to his only real threat, in the fourth. After McCutchen's leadoff double was followed by a walk to Justin Morneau, Marlon Byrd's grounder up the middle became a double play and Pedro Alvarez became an inning-ending strikeout victim.
There was no escape for Locke in the bottom of that inning. Carlos Beltran, who'd led off with the fourth walk issued by Locke, stopped at third on Yadier Molina's double and scored on David Freese's sacrifice fly. Molina later advanced to third on a wild pitch that proved critical -- without it, he does not score as Pete Kozma beats out a grounder down the third-base line, on which Alvarez made a fabulous stop and throw, for an infield single.
Next inning, Locke again had to deal with a men-on-second-and-third, none-out situation. He hit leadoff man Matt Carpenter, who motored to third when shortstop Clint Barmes, after a nice backhand pickup of Shane Robinson's grounder into the hole, threw the ball into right field for a two-base error. Matt Holliday's infield grounder cashed in the unearned run for a 3-0 lead.
Given Locke's admission that "I don't like to pitch from the stretch," having to do that with 17 of the 23 men he faced certainly had to be a complication.
"The fact the leadoff guy was on all the time forced me to do that," Locke said. "Obviously, you can't keep putting the leadoff guy on base, I understand that. But there were a lot of other things I did tonight that I felt real comfortable with, to help me push forward."
Freese greeted reliever Jeanmar Gomez with a leadoff homer in the sixth to make it 4-0, and pinch-hitter Daniel Descalso's single off Tony Watson in the eighth drove in a run charged to Jason Grilli.
Tom Singer is a reporter for MLB.com and writes an MLBlog Change for a Nickel. He can also be found on Twitter @Tom_Singer. This story was not subject to the approval of Major League Baseball or its clubs.