Cards back in first as Wainwright throws gem
Cards back in first as Wainwright throws gem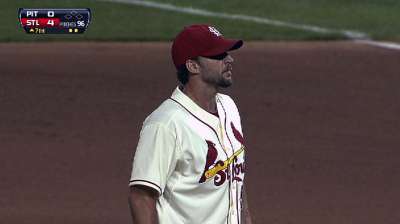 ST. LOUIS -- Adam Wainwright perused the message boards after his last start. He was coming off two of his worst outings of the season, having surrendered 17 hits and 15 runs over two games, and searching for any bit of motivation that could help him turn the corner.
What he found: "Mild panic."
"I understand that. This is a big part of the year. You want your guy up there competing like you knew he can," Wainwright said. "I wanted to see what fan reaction was, I wanted to see what media reaction was. And then I didn't open the computer to look at that stuff again, because I just used it motivationally.
"I knew that I still could go out and pitch a very good game. I knew that those two games were completely a fluke."
Although he didn't respond online to the concerned comments, headlines and posts, he issued his statement Saturday night. He coasted through seven shutout innings as St. Louis took back sole possession of first place in the National League Central with a 5-0 win over the Pirates at Busch Stadium.
The win sealed a series victory over the Bucs heading into Sunday's finale, the last regular-season meeting between these teams. Cincinnati's extra-inning victory over the Dodgers on Saturday pulled the Reds to within 1 1/2 games of first place.
"We know that the standings are there, we know where we are," manager Mike Matheny said. "We try real hard not to pay a whole lot of attention to it just because there is so much time to go."
"A week ago, we beat them and moved into first. Week later, they move into first," Pirates manager Clint Hurdle said. "We expected to be here, we don't expect to go away."
Wainwright stifled the Pittsburgh bats, allowing just two hits and two walks. He fanned eight batters, passing Dizzy Dean for second on the Cardinals' all-time strikeout list with 1,103.
"This is a long season. Everybody is going to have slumps," catcher Yadier Molina said. "But he's tough. He's a tough guy. He's going to battle every game, and tonight, he did a great job."
The Cardinals' ace didn't throw a bullpen session between his Sept. 2 start and Saturday, not wanting to practice any bad mechanics that may have slipped in over his last two outings. Instead, he opted for many hours in the film room diagnosing the issues -- which were a combination of minor mechanical adjustments and tipping some of his pitches -- and was effective from the get-go Saturday, touting a crisper curveball and impressive fastball command.
"My stuff tonight was different, it was sharper, it was down, it was cutting, it was biting, it was late moving," Wainwright said, "and when I'm doing that, I'm very tough. That's something I've lacked the last two outings."
He retired his last 11 batters, fanning four straight before exiting after the seventh with 100 pitches (68 strikes).
"Adam was the Adam that we've been so spoiled watching most of the season," Matheny said. "That's the same guy we've come to expect every time out there."
Wainwright and Pittsburgh starter Jeff Locke pitched a scoreless draw for three innings until the Cardinals struck first in the fourth, plating two runs. Locke was inefficient, giving up three runs -- two earned -- on three hits and four walks while fanning four with 91 pitches in five innings of work.
The Pirates missed an opportunity for a double play in the fifth when shortstop Clint Barmes' toss to second was off the mark, allowing Shane Robinson and Matt Carpenter to advance to scoring position rather than securing two outs. The throwing error led to an unearned run as Carpenter reached home on Matt Holliday's groundout.
"We did a lot of little things right today offensively, getting the runs in like we needed to," Matheny said. "Those things that we really make a big deal about around here. It was just a good overall effort."
David Freese added on in the sixth, belting a 425-foot solo blast over the center-field wall for his eighth homer, and Molina extended the lead to five when he doubled, then reached home on Daniel Descalso's RBI single in the eighth. Trevor Rosenthal relieved Wainwright and went 1-2-3 with a strikeout and two fly balls in the eighth, and left-handed specialist Randy Choate came through with a game-ending strikeout of lefty Justin Morneau as Jose Tabata was on third base.
After dropping consecutive series to Cincinnati and Pittsburgh and struggling on a 2-5 road trip, the Cardinals have won two in a row to jump back into first place and are clicking at the right time.
"This is baseball, you've got to play 162 games," Molina said. "Good teams are going to have tough times sometimes. Right now, we needed this series. I'm glad we got the win."
Chad Thornburg is an associate reporter for MLB.com. This story was not subject to the approval of Major League Baseball or its clubs.