After ninth-inning rally, Sox fall to Yanks
After ninth-inning rally, Sox fall to Yanks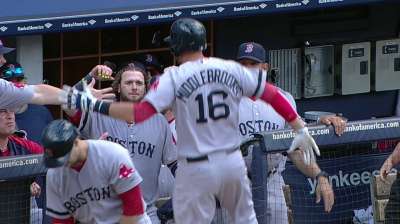 NEW YORK -- The Red Sox came agonizingly close to their first sweep of four games or more at Yankee Stadium in 74 years, but that quest ended when Brandon Workman's wild pitch with two outs in the bottom of the ninth led to a 4-3, walk-off loss.
Will Middlebrooks tied it for the Red Sox with an opposite-field homer to right to open the top of the ninth against Mariano Rivera.
The Yankees had gone to Rivera in the eighth, hoping he could notch the two-inning save. Despite giving up the homer to Middlebrooks, Rivera still got the win.
Even in defeat, the Red Sox continue to show they're never out of a game.
"We've been coming back and playing good ball lately," said Middlebrooks. "I was just trying to get on base and give us a shot to win."
Ichiro Suzuki opened the winning rally for the Yankees with a single to center against Workman. Ichiro stole second and moved to third on a flyout to right by Vernon Wells. With Alfonso Soriano batting, Workman's wild pitch soared off the glove of catcher Jarrod Saltalamacchia.
"That late in the game, just starting to get some shadows," said Saltalamacchia. "But I went out there and talked to him. We had a plan. Our game plan was to throw the fastball up on him. He executed exactly what I wanted. I've just got to basically fight to get it. I've got to do the best I can and try to hold onto that."
Workman, who has come up big countless times for the Red Sox the past few weeks, didn't think it was fair to pin the blame on Saltalamacchia.
"One got away from me," Workman said. "I was trying to work a little bit up in the zone on him. One got away and went a little too high and got over Salty's head. I was trying to stay up a little against him and I just kind of missed up too high."
Even with the loss, the surging Sox took three out of four in New York, winning the first two games in thrilling fashion.
"I mean, we wanted to take four, but we can't complain taking three of four from this team, because they're a good team and they were hot," said Middlebrooks.
Jon Lester went eight innings, giving up 10 hits and three runs. He walked one and struck out six, taking a no-decision.
"I felt good," Lester said. "It was a little bit of a grinder for me. I was able to keep the team within reach. Will picks me up in the ninth there. Unfortunately, we were on the other side in the ninth."
The Red Sox took a quick lead in the top of the second when David Ortiz belted a double to right and Mike Carp followed with an RBI double.
Lester shut down the Yankees for the first three innings, but he gave up an RBI double to Mark Reynolds in the fourth to tie the game.
The Yankees took advantage of some well-placed hits in the fifth, blooping in three straight to load the bases with one out. After a strikeout by Soriano, Robinson Cano came up with a big two-run double to give New York a 3-1 lead.
"I made one bad pitch in the inning and gave up two runs," said Lester. "It's frustrating, but you just have to keep trying to execute pitches. It's tough sometimes when you're able to get broken bats and they fall in. You've just got to keep going after them and keep trying to execute the pitch."
And the pitch to Cano?
"He changed his approach against me a little bit I feel like this time," said Lester. "That ball right there is just right down the middle. Not a very well-executed pitch and he did what he was supposed to do with it."
Ortiz opened the sixth with a double and scored on a fielder's-choice grounder by Saltalamacchia to make it a one-run game.
Middlebrooks completed the comeback, but it didn't last long.
"We forgot about the first three games, put that on the side and go out with a win," said Cano.
The Red Sox and Yankees will face off again next weekend with a three-game series at Fenway Park.
Ian Browne is a reporter for MLB.com. Read his blog, Brownie Points, and follow him on Twitter @IanMBrowne. This story was not subject to the approval of Major League Baseball or its clubs.