Correia falters early, Twins can't find groove at home
Correia falters early, Twins can't find groove at home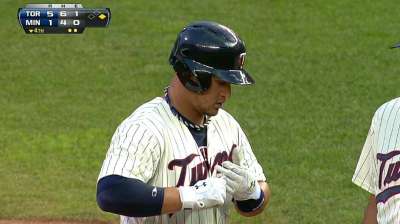 MINNEAPOLIS -- For whatever reason, the Twins just haven't been able to find their footing at home this year.
It's supposed to be easier to play at home, but that just hasn't been the case for the Twins, especially lately.
Their struggles were evident again on Saturday night, as Kevin Correia was knocked around in the opening inning, and the Twins couldn't recover in an 11-2 loss to the Blue Jays at Target Field. It was the Twins' ninth straight loss at home to tie their record for most consecutive home losses, and they're now just 28-38 at Target Field on the year.
"I can't figure it out," Twins manager Ron Gardenhire said. "We seem to be getting behind in a lot of baseball games and haven't been getting many quality starts at home. There have been some games where we've been in it, but we just haven't been able to finish it off."
The Twins fell behind early in this one, as Correia, who had a 1.80 ERA over his previous five starts, was hit hard in the first inning, giving up five runs on five hits and a walk. But he settled down after that rocky frame, as he ended up going six innings and didn't give up a run the rest of the way.
"They jumped on pitches early," Correia said. "It was pretty quick. Usually, I can make adjustments, but they just caught me. There were a handful of guys I hadn't faced, and so it was kind of a guessing game early. They jumped on a few pitches and took advantage in the first."
Six consecutive Blue Jays reached in that inning, including Adam Lind, who connected on a three-run blast to center field. Brett Lawrie followed with a solo shot into the second deck in left field, before J.P. Arencibia brought home a run with a single.
Twins manager Ron Gardenhire noticed that Toronto hitters were teeing off on Correia's cut fastball, which has been one of his more effective pitches this season.
"They were sitting on his cutter," Gardenhire said. "He throws that a lot, and they jumped on it. Their guys are very strong and put the balls in the seats. That's what they're known for."
It was enough offense for Toronto left-hander J.A. Happ, who allowed just one unearned run over 5 2/3 innings to get his first win since Aug. 17.
"The game plan was to come out and mix it up early and try to pound the strike zone," Happ said. "Having a lead like that definitely helps. It's something you don't think about a ton, but you're definitely more loose and more confident to throw those pitches."
The Twins didn't score until the fourth inning, and the run was keyed by a throwing error from Lawrie with nobody out. Oswaldo Arcia hit a single to drive in Josh Willingham, who had reached on Lawrie's throwing error to second base on a potential forceout.
Minnesota threatened in the seventh, loading the bases with two outs, but Willingham struck out on a slider from reliever Sergio Santos to end the inning.
The Blue Jays tacked on three insurance runs against reliever Josh Roenicke, including two runs in the seventh on a one-out single from Munenori Kawasaki. Anthony Gose plated the other run on a triple in the eighth with two outs. In the top of the ninth, Lind hit his second homer of the game off Caleb Thielbar, another three-run shot to center.
"Home runs tend to come in bunches, and I'm a perfect example of that," Lind said. "[I'm] just trying to feel as relaxed as I can before the pitcher begins his delivery, keep my hands free and let them do what they can."
The Twins loaded the bases again in the eighth with nobody out, and Josmil Pinto came through with an RBI single, but that was all they could muster. Pedro Florimon and Alex Presley both struck out, before pinch-hitter Ryan Doumit popped out to third to end the potential rally.
"We had plenty of opportunities," Gardenhire said. "We left the bases loaded a couple of times. Too many strikeouts again. If we get some of those hits, it could be a fun ballgame, but we missed a lot of opportunities, so it wasn't a good ballgame for us."
Rhett Bollinger is a reporter for MLB.com. Read his blog, Bollinger Beat, and follow him on Twitter @RhettBollinger. This story was not subject to the approval of Major League Baseball or its clubs.