On wild pitch, Yankees walk off vs. Red Sox
On wild pitch, Yankees walk off vs. Red Sox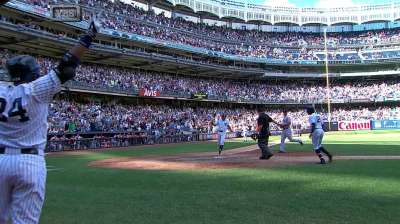 NEW YORK -- Mariano Rivera stood at the back of the Yankee Stadium mound, hands on hips, wearing a mystified gaze. He was certain that Will Middlebrooks' drive to right field was a routine fly ball, and could not compute how it had landed in the fifth row.
"Unbelievable," Rivera had said, to no one in particular.
Rivera may have blown the save in the ninth inning, but the Yankees salvaged the afternoon. Ichiro Suzuki raced home on a Brandon Workman wild pitch, stomping on the plate with the deciding run of a 4-3 win over the Red Sox on Sunday at Yankee Stadium.
"Obviously, if we lose this one today, it would have been a big hit mentally," Ichiro said through an interpreter. "It would have been tough, to be honest. But we did win, and hopefully we can take this win here, get on a run, and really use it to our advantage."
Robinson Cano slugged a two-run double to support a strong effort from Hiroki Kuroda, who threw a season-high 117 pitches over six innings, helping the Yankees avoid a four-game sweep by their division rivals.
Ichiro singled, stole second and moved to third on a flyout before his dash home, which came as Workman uncorked a high fastball that eluded the reach of catcher Jarrod Saltalamacchia and sailed to the screen.
"We needed it, because we had had some pretty tough games the last couple of days," manager Joe Girardi said. "You want to finish your homestand right before we go on this important road trip. We're facing Baltimore again, a team we're fighting for a spot, so it's really important."
The Yanks' seventh walk-off win of the season came after Rivera was asked to empty his tank and help out their depleted bullpen, calling on the all-time saves leader for a rare two-inning save opportunity. Instead, it resulted in Rivera's seventh blown save.
"Most of the guys are a little sore right now," Rivera said. "It doesn't mean that I'm the solution, but I just needed to do something."
Rivera hadn't recorded a six-out regular season save since 2006, but he told Girardi and pitching coach Larry Rothschild that he was game to try. As Girardi put it, Rivera is "not saving anything for 2014."
Rivera navigated the eighth around a single, but he left a cutter out over the plate to Middlebrooks opening the ninth. Rivera wasn't the only one who thought it was a routine flyout; Ichiro actually broke in and had to quickly retreat to the wall.
"When the ball got up in the air, I said, 'Well, that's a popup," Rivera said. "It was a popup, but it went out. It's part of the game. The other day, [it would be] a fly ball right to the warning track. Today, the wind takes it."
"If the wind wasn't blowing, it would have been a popup in front of me," Ichiro said. "So it was definitely surprising to see it go out."
Rivera said that he needs to pitch if the Yankees are going to keep their season alive, and in that vein, his extended efforts were needed after Kuroda limited Boston's powerhouse lineup to two runs.
Kuroda said he wasn't particularly sharp, and the veteran did wobble at times, particularly in a 37-pitch second inning, but he was able to keep Boston to just Mike Carp's run-scoring double in that inning as the Red Sox left the bases loaded.
Saltalamacchia also had a sixth-inning RBI groundout against Kuroda, who stranded two runners aboard in the seventh as the Red Sox missed another opportunity.
"At this stage of the season, fatigue really doesn't matter," Kuroda said. "You have to treat it as if this is going to be your last outing."
Boston's Jon Lester took a no-decision after his eight-inning effort, allowing three runs on 10 hits. Mark Reynolds blasted a run-scoring double to center field in the fourth inning that tied the game.
After three New York soft singles loaded the bases in the fifth, Robinson Cano stroked a two-run double down the left-field line, giving the Yankees a lead that Kuroda, Shawn Kelley and Rivera held until Middlebrooks surprised them with his homer in the ninth.
"This is the time of the season now where whatever we've got left, we've just got to give everything now," Cano said. "If we want to make it to the playoffs, that's what we've got to do."
Girardi said that even though Rivera threw 35 pitches in Sunday's appearance, it is possible he would be available to protect a lead on Monday in Baltimore. With just 19 games remaining, Rivera is campaigning to take the ball for every possible opportunity.
"They don't need to talk to me," Rivera said. "I'm holding [back] nothing. I'm not coming back next year."
Bryan Hoch is a reporter for MLB.com. Follow him on Twitter @bryanhoch and read his MLBlog, Bombers Beat. This story was not subject to the approval of Major League Baseball or its clubs.