Harrison to have surgery on right shoulder
Harrison to have surgery on right shoulder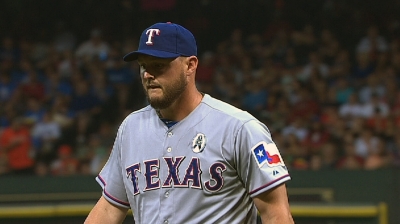 ANAHEIM -- Rangers left-hander Matt Harrison has had two surgeries on his back this season and is now slated for a third surgery Monday -- this time on his right shoulder.
"Just one of those years," Rangers general manager Jon Daniels said. "Herniated disk and thoracic syndrome, they're the kind of things you can't really protect against. He's as hard a worker as we have, just been kind of snake-bitten this year."
Harrison will undergo surgery to repair thoracic outlet syndrome, which means a rib is disrupting blood flow or a nerve, causing an unusual feeling in the arm and hand.
Harrison, who had surgeries to repair a herniated disk in April and May, had TOS surgery on his left shoulder in 2009.
The latest surgery is not expected to delay the start of Harrison's 2014 season, and he is expected to be ready for Spring Training.
Harrison started just two games in 2013 after signing a five-year, $55 million extension in January. He posted an 18-11 record and 3.29 ERA last season.
"We invested in him this winter and believe in him, but we have to get him healthy," Daniels said.
William Boor is an associate reporter for MLB.com. This story was not subject to the approval of Major League Baseball or its clubs.