Martin out of leadoff spot for 'mental break'
Martin out of leadoff spot for 'mental break'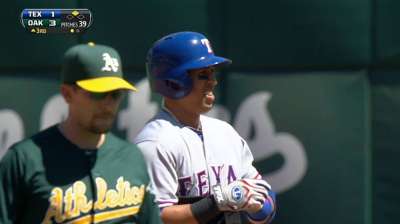 ANAHEIM -- The last 31 starts for Leonys Martin, he has been in the leadoff position.
On Saturday, that changed, as the center fielder hit ninth against the Angels.
"Just wanted to give Marty a little mental break," Rangers manager Ron Washington said. "He's looking like he's starting to press a little bit. He hasn't pressed all year and I certainly don't want him to start now."
Including a 1-for-5 performance in Friday's series-opening loss, Martin enters Saturday's game with five hits in his past 27 at-bats and a .185 average (12-for-65) in his last 17 games.
In 31 games as the team's leadoff hitter, Martin hit .238.
Although Martin has struggled lately, Washington expects to move him back into the leadoff spot in the near future.
Martin, playing in his first full Major League season, has been a valuable component of the Rangers' offense this season, and Washington made sure to relay that message to the 25-year-old.
"He's done great for us, and I don't want him to get into the last month and think he has to be different than what he's been to this point," Washington said.
William Boor is an associate reporter for MLB.com. This story was not subject to the approval of Major League Baseball or its clubs.