Ready to turn page, D-backs tip cap to Petit
Ready to turn page, D-backs tip cap to Petit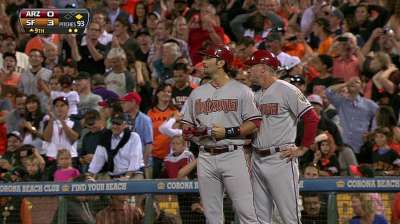 SAN FRANCISCO -- Inside a team's clubhouse the day after almost having a perfect game pitched against them is just like any other day, really. Chatter. Music. Watching college football on TV. The only difference is that the questions the team has to answer are mostly about yesterday.
In their answers, the D-backs tipped their caps to Yusmeiro Petit, the Giants' near-perfect hurler Friday night. In their body language, the D-backs showed they are looking forward to Saturday.
"We wanna put yesterday behind us," Adam Eaton said. "You gotta get on the board early."
Petit was nearly perfect against the team for which he played for three years, retiring the first 26 hitters he faced before allowing a single to Eric Chavez with two outs in the ninth.
The Giants won the game, 3-0, and the D-backs were answerless against Petit. He has made three starts since being called up late August, twice starting against Arizona. Petit also handed the D-backs a loss Sept. 1.
"Like I said last night, it would be hard to take away any credit from Petit," manager Kurt Gibson said. "Both times he's pitched against us, he's thrown the ball extremely well. We might have gotten a little frustrated, too, because he didn't really make any mistakes. You face some guys and as the game goes on, he makes a mistake. But his pitch count was so low, he really didn't do that."
Willie Bans is a contributor to MLB.com. This story was not subject to the approval of Major League Baseball or its clubs.