Peterson gets second career start with Cards
Peterson gets second career start with Cards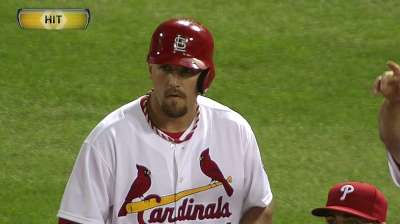 ST. LOUIS -- Brock Peterson has played in 1,206 professional baseball games. Until Saturday, only one of those had been a Major League start.
Peterson was in the lineup at first base for the Cardinals against the Pirates on Saturday, making his second big league start. After 10 years in the Minors, Peterson has earned an opportunity to show what he can do in the Majors.
Although the production has yet to follow him to St. Louis, the 29-year-old infielder batted .296 with Triple-A Memphis this season.
"I know it's exciting for him to get in there and see what it feels like out there at first base," manager Mike Matheny said. "I think he's got the potential to help us out offensively, too. He hasn't done a lot to really show anybody here, but you don't put up the kind of numbers that he did in Memphis without having a really good approach."
With Allen Craig out indefinitely with a sprained left foot and Matt Adams' .195 average versus lefties, Matheny thought Saturday against lefty Jeff Locke provided an opportunity to get Peterson some consistent at-bats. The Cardinals are hoping Peterson can provide a spark for a club hitting .237 against left-handers heading into Saturday's game.
"It's no secret that we're trying to figure out how we can have a more consistent offense against left-handed pitching," Matheny said. "This guy's got some ability to be able to help us out, so we're going to throw him in there, give him a chance."
Chad Thornburg is an associate reporter for MLB.com. This story was not subject to the approval of Major League Baseball or its clubs.