Giants fall to D-backs despite Cain's strong return
Giants fall to D-backs despite Cain's strong return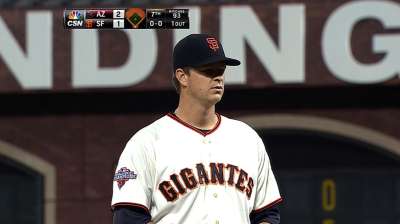 SAN FRANCISCO -- Having switched their pursuit of precious metals from going for the gold to seeking silver linings, the Giants could regard Saturday's 2-1 loss to the D-backs as a mild success.
Right-hander Matt Cain erased any doubts about his physical well being. Freshly activated from the 15-day disabled list, where he was placed after a line drive hit by Pittsburgh's Gaby Sanchez bruised his throwing arm on Aug. 22, Cain lasted 6 1/3 stubbornly effective innings. Though Cain allowed eight hits and walked four, he yielded just two runs. That resulted from limiting Arizona to one hit in nine at-bats with runners in scoring position.
Center fielder Angel Pagan, who has provided glimpses of his offensive and baserunning skills since recovering from left hamstring surgery, complemented those efforts by playing prodigious defense. He recorded two outfield assists for the first time in his career, including an eighth-inning collaboration with shortstop Brandon Crawford that denied Arizona a run by apprehending Wil Nieves at home plate following Gerardo Parra's double.
The Giants will need sustained excellence next season from Cain and Pagan, among others, to ease this year's sting. For a team in San Francisco's position, generating hope with performances such as Saturday's gives meaning to September.
"It's going to be important for everybody," Pagan said of the season's final month. "Some of the guys are trying to make a statement to have a job next year. For me, it's about finishing strong with my teammates so we can pick it up. After the year is over, we can reflect on this year, use it as motivation for next year and turn things around. Obviously, this season hasn't been the one we wanted, but not every year is the same. We're going to have good and bad years. That's just the way life is. I think the most important thing is to learn from this experience, learn from the year and see what you can do to turn it around."
The defeat lodged the Giants more firmly in the National League West cellar, as they fell 1 1/2 games behind fourth-place San Diego. Moreover, the defending World Series champions moved a step closer to official elimination from the division race, which will occur either with their next loss or the Dodgers' next victory.
One night after Yusmeiro Petit's near-perfect game, the buzz of expectant fans returned to AT&T Park. But they had little to cheer about, aside from Cain's resolute pitching and some slick defense in addition to Pagan's contributions. The infield executed a pair of double plays. Third baseman Pablo Sandoval and second baseman Marco Scutaro turned hard-hit balls into outs in the fifth and sixth innings, respectively.
"Pitching and defense did a great job tonight to keep us close to give us a chance," manager Bruce Bochy said.
Cain didn't pitch a single 1-2-3 inning, but that was less important than his health.
"I felt like it was as normal as could be," Cain said.
Petit's gem presented Cain with a difficult act to follow. But Cain didn't mind. Having basked in the thrill of his perfect game last year against Houston, he related to Petit's experience.
"It was just so close," Cain said. "He threw the ball unbelievable. He might have missed like two or three spots that he wanted to throw to all night, and that's pretty much unheard of. In some ways, he almost made it look way too easy because he was really dotting it up. It was a lot of fun to watch."
Pagan's defense also proved entertaining, though his 11-game hitting streak dissolved during Arizona starter Brandon McCarthy's eight strong innings. He began his defensive display in the third inning with a mighty throw to first base that doubled off A.J. Pollock, who seemed to loiter a little too long at second base on Adam Eaton's fly ball.
On both of his assists, Pagan had to plant his feet quickly before throwing, indicating his surgically repaired leg is sound.
"I want plays like that to happen so I can test it and see how far I can go," he said. "I don't want to say I feel like nothing happened, because I do feel a little difference from one leg to another. But I feel really good."
Crawford, who singled and scored the Giants' lone run in the third inning, was San Francisco's only runner to reach scoring position against McCarthy. The right-hander surrendered six hits, all singles, before Brad Ziegler worked a perfect ninth for his ninth save.
"He had a good sinker, a great cutter and obviously his out pitch is the curveball," Pagan said of McCarthy. "He was hitting every corner and he was in the zone."
Chris Haft is a reporter for MLB.com. This story was not subject to the approval of Major League Baseball or its clubs.