D-backs edge Giants via McCarthy's gem
D-backs edge Giants via McCarthy's gem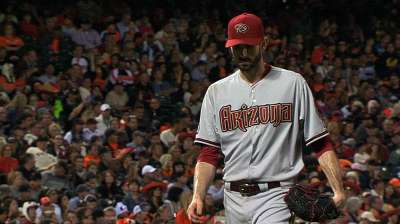 SAN FRANCISCO -- When the 6-foot-7-inch Brandon McCarthy is executing mechanically, he feels 5-foot-10, compact and in command of his pitches. When he's not, he feels 7-foot-5, "a wobbly thing," he said.
He might need to start ordering smaller uniforms soon.
McCarthy turned in another solid outing, and Paul Goldschmidt got out of a small funk, to help the D-backs defeat the Giants, 2-1, on Saturday night at AT&T Park.
With the win, Arizona remained eight games behind the Reds for the final Wild Card spot in the National League.
In the fifth inning, Goldschmidt hit a go-ahead RBI triple to deep right-center field to score Adam Eaton from first. Goldschmidt went 3-for-4 after coming into the game with two hits in his last 23 at-bats.
With the one-run lead and his pitch count at 90, McCarthy stayed in to pitch the eighth and retired the top of the Giants' batting order for a 1-2-3 inning. Of his 99 pitches, 70 were strikes.
McCarthy allowed one run on six hits over eight strong innings after entering the night with a 2.25 ERA in his previous two starts. All of this since being tagged for seven runs in 2 1/3 innings against Cincinnati on Aug. 21.
"It's just consistency and location," McCarthy said. "For me, if my location is gone, it's going to be a tough day. I don't have that kind of stuff. If I had Matt Harvey's stuff, I could be a little less careful. For me, I have to have command. If I'm not using both sides of the plate, it becomes a much easier job for a team to hit me."
"He had a good sinker, a great cutter and, obviously, his out pitch is the curveball. He was hitting every corner and he was in the zone," Giants center fielder Angel Pagan said.
Brad Ziegler pitched a 1-2-3 ninth inning for his ninth save.
Eaton's one-out walk in the seventh was Giants starter Matt Cain's 99th and final pitch. Cain allowed eight hits and four walks with three strikeouts over 6 1/3 innings.
In the fourth, Goldschmidt led off with a single and was plated by Gerardo Parra's two-out single to tie the game at 1.
"I just got a few pitches that I caught in the middle of the plate," Goldschmidt said. "Fortunately, I was able to find some holes out there. … On the triple, it got up in the wind a little bit and carried more than it usually does here. Fortunately for us, we were able to score a run there. Brandon did a great job. We didn't score much. We only gave up one run and Ziegler came in and shut them down."
In the third, McCarthy allowed a leadoff single to Brandon Crawford, who scored on Marco Scutaro's two-out single for a 1-0 defecit.
The D-backs almost notched another run in the eighth, when with two outs and Wil Nieves on first, Parra doubled to deep left-center. However, Nieves was thrown out at home plate by shortstop Brandon Crawford's pinpoint relay throw from Pagan.
The D-backs went 1-for-11 with runners in scoring position. The one-run victory was their 31st such win, tops in the Majors.
"We're just here to win games," manager Kirk Gibson said. "We prefer to score more runs, but it didn't happen and we got the win."
And the D-backs have McCarthy back. He said that the day after the poor outing against Cincinnati, it hit him what he was doing incorrectly. It included him falling off the mound too much to the left after his delivery, which he started doing after almost being hit in the head by a liner from Boston's Shane Victorino on Aug. 4.
"It wasn't that I was scared of the ball, but the possibility enters into your mind again," said McCarthy, who was hit in the head last year while with the A's. "Just getting close again wasn't a comfortable thing and it was something that stuck with me … but once I was able to get back mechanically, those thoughts all went away. I realized I'm in a better fielding position anyway and throwing the ball where I want, and there's less chance of them hitting it."
Slim chances, like he prefers.
Willie Bans is a contributor to MLB.com. This story was not subject to the approval of Major League Baseball or its clubs.