Walters gets keepsake after breaking up no-hitter
Walters gets keepsake after breaking up no-hitter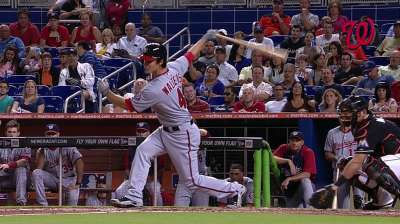 MIAMI -- Nationals shortstop Zach Walters' big league debut on Friday didn't turn out quite as he imagined while playing in his backyard as a little kid.
The 24-year-old, who belted 29 home runs with 77 RBIs for Triple-A Syracuse this season before being called up on Tuesday, came in as a pinch-hitter during the sixth inning with Marlins right-hander Jose Fernandez not having allowed a hit.
Expecting a fastball on a 2-2 pitch, his dribbler down the third-base line stayed fair and gave Washington its first hit. Third baseman Placido Polanco's only play was hoping it would go foul.
"No idea where it was," Walters said. "Everyone was like, 'Run Forrest!' I kind of knew it would be a hit, and I tried not to smile after."
Fernandez gave Walters a smile once the latter reached first. Walters said during either the eighth or ninth inning, Fernandez motioned to him and put his hands up. Walters responded by showing off the ball and blowing on it.
The ball, which sat in his locker after the game, will go in his office.
"I'll tell people it was a line drive off the wall or something," Walters said.
Christina De Nicola is a contributor to MLB.com. This story was not subject to the approval of Major League Baseball or its clubs.