Kazmir combating fatigue with variety of methods
Kazmir combating fatigue with variety of methods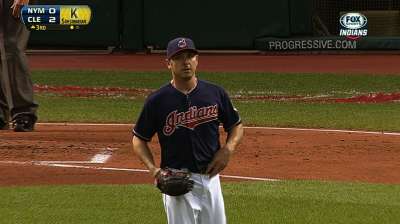 CLEVELAND -- It might sound like science fiction, but a cryogenic chamber might be behind Scott Kazmir's recent resurgence on the mound for the Indians.
During the Tribe's recent road trip to Atlanta, Kazmir underwent a pair of cryogenic therapy sessions with the idea of helping some of the late-season fatigue he had experienced. On Friday night against the Mets, Kazmir went out and struck out 12 hitters in six shutout innings en route to an 8-1 win for Cleveland.
Does Kazmir credit the cryogenics?
"Let's not go that far," Kazmir said with a laugh. "I only used it twice."
Kazmir noted that he has been implementing a variety of techniques to fighting fatigue. The lefty quickly rattled off methods such as stretching, resistance exercises with bands, icing, compression and hot-and-cold therapy as things he has done in recent weeks.
"We did do a lot of things to try to recover," Kazmir said. "So you can't just put it on one thing."
Unless, perhaps, one of those things is especially unique. In cryogenic chamber therapy, the patient steps into a tube wearing boots, gloves and a bathing suit for a few minutes. The temperature can drop to around 166 degrees below zero and the body is cooled with liquid nitrogen, and cold sensors increase blood flow to help sore muscles and tissues.
Indians manager Terry Francona also gave it a try while in Atlanta.
"Kaz threw harder and I got a headache," Francona said. "I'll take that trade-off anytime. I can take aspirin."
On the season, Kazmir has gone 8-7 with a 4.17 ERA in 136 innings after logging no Major League innings last year. Over his past three starts, Kazmir has posted a 2.65 ERA with 24 strikeouts in 17 innings, following a two-start stretch in which the lefty went 0-2 with an 11.25 ERA in just eight combined innings.
Due to last season's low workload, Kazmir said he has battled fatigue more in the second half than in previous years of his career.
"It does feel different compared to all the other seasons late in the year," Kazmir said. "Normally, I'd feel a lot stronger later in the season. Now, it seems like it's going in waves a little bit, where you really have to make that extra effort to do everything you can recovery-wise consistently every single day. But, it's paying off."
Jordan Bastian is a reporter for MLB.com. Read his blog, Major League Bastian, and follow him on Twitter @MLBastian. This story was not subject to the approval of Major League Baseball or its clubs.