Nats tip cap to Marlins' ace Fernandez
Nats tip cap to Marlins' ace Fernandez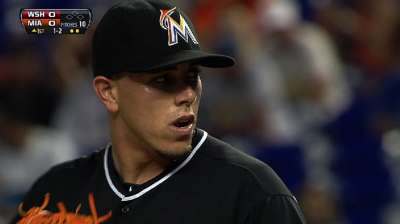 MIAMI -- In a division with some of baseball's top aces, the Nationals added Marlins right-hander Jose Fernandez to the list after his dominating performance Friday night.
Fernandez, vying for the National League Rookie of the Year Award, improved to 1-0 with a 0.69 ERA against Washington while flirting with a no-hitter.
At 21 years old, the Nationals know Fernandez will be a force to be reckoned with for years to come.
"He's got great stuff," said right-hander Dan Haren, who took the loss on Friday. "He's really had a great year, and he's got a real bright future ahead of him. His stuff is obviously tremendous. It's only going to get better. He's impressive."
Nationals manager Davey Johnson called it the best performance by an opposing starter against his team this season.
"He really used all his pitches, he was really attacking everybody with strikes," Johnson said. "That's key, and good location, good fastball, good breaking stuff."
The Nats, who have been shut out nine times this season, entered the game with an offense putting up solid numbers.
Washington ranked first in on-base plus slugging, on-base percentage and home runs since Aug. 9, as well as second in home runs, walks and slugging percentage in that span.
Over the past 16 games, the Nationals have posted double-digit hits 10 times. Since Aug. 9, the team has scored five or more runs 12 times.
Right fielder Jayson Werth put Fernandez's performance up there with Indians starters Justin Masterson and Corey Kluber, who beat Washington in consecutive games in mid-June.
"You see him OK," said Werth, who went 0-for-3 against Fernandez. "You're dealing with a lot of velocity. He's definitely up there as one of the best pitchers in the NL."
Christina De Nicola is a contributor to MLB.com. This story was not subject to the approval of Major League Baseball or its clubs.