Melky recovering after benign tumor removed
Melky recovering after benign tumor removed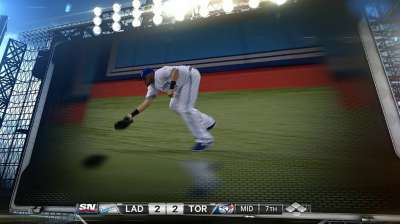 MINNEAPOLIS -- The Blue Jays' medical staff found a benign tumor in Melky Cabrera's lower back in August, and thankfully for the veteran left fielder, it has been removed without complications.
Cabrera had been dealing with various leg injuries throughout the season, but it wasn't until his recent disclosure of back pain that Toronto expanded its search to find a cause.
An MRI was performed in late August, which revealed a tumor that was located in the spinal cord of his L1, which is the first vertebrae of the lowest section of the spine.
"On his rehab assignment, he came clean and said his back had been bothering him for about four months," Blue Jays general manager Alex Anthopoulos said. "We finally got an MRI done on the back. We found a tumor. The doctors said we had to have it removed. It took a week to have tests, and the tests came back that it was completely benign."
Toronto waited to release the news until the tumor was successfully removed and diagnosed as benign. There was a serious cause for concern when it was first discovered, but Cabrera appears to be in the clear and is expected to make a full recovery before the start of Spring Training.
The issue had impacted Cabrera for about four months, but the tumor likely started growing well before that period. It put a great deal of pressure on his spine, and as a result, caused a lot of issues in the lower half of Cabrera's body.
Cabrera had been dealing with pain in his quadriceps and hamstring muscles in both legs since Spring Training. The club put him through multiple MRIs, but no structural damage could be found, which left the organization grasping at straws for a reason behind his pain.
There's finally a more than plausible explanation for the issues, and the Blue Jays are confident that they can once again include Cabrera in their plans as the starting left fielder for the 2014 season.
"As the tumor grows, it starts to push on your nerve and causes complete weakness in the legs," Anthopoulos said. "That's why we'd find inflammation and things like that, but we never found a tear.
"Those were the only things he said were sore, were his legs, which when you talk to the training staff, ultimately, the result is weakness in your legs. Ultimately, you wish it never occurred, but at least we have something to point to."
Cabrera signed a two-year contract worth $16-million during the offseason and appeared to be moving very well during the early stages of Spring Training. That changed just prior to the start of the regular season, as Cabrera's range in the outfield became severely hampered, and he struggled to even run the bases.
The 29-year-old attempted to play through the pain, but he eventually required a stint on the disabled list. He missed almost a month starting in late June, but when he returned after the All-Star break, it was clear that something wasn't right.
Cabrera was shut down for good on Aug. 1 with what was described as a left knee strain. He began his rehab at the club's Minor League complex in Florida, and he also had his back examined, which revealed the much larger issue.
"When it first came up, he was scared like anybody would be, because you don't know," Anthopoulos said. "But now, knowing that he's going to recover and going to be fine, you do give him credit, because he doesn't want to come out of the lineup. He wants to play -- has to get dragged to the training room.
"He never wanted to make excuses for his play, ever. That's obviously something you admire. But I think more than anything, he's relieved that now he knows he's going to be fine."
Cabrera should make a full recovery, but doctors will never completely rule out the possibility that a tumor can resurface. He'll likely be re-examined at various points in the future.
The left fielder's season is over, but next year should bring a fresh outlook, and that's something both the Blue Jays and the former All-Star are very much looking forward to.
Gregor Chisholm is a reporter for MLB.com. Read his blog, North of the Border, and follow him on Twitter @gregorMLB. This story was not subject to the approval of Major League Baseball or its clubs.