Mets plan on giving Flores some time to rest ankles
Mets plan on giving Flores some time to rest ankles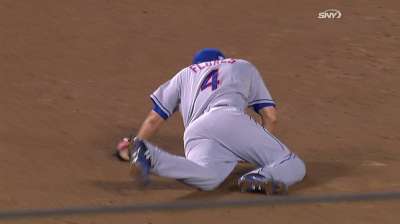 CLEVELAND -- Wilmer Flores took a couple swings in Friday's loss that convinced Mets skipper Terry Collins that he's not yet healthy enough to play.
Flores, who's dealing with two ailing ankles, insisted to Collins that he's fine, but the manager thinks it's very possible that Flores will need a week or so on the bench to get back to a condition that allows him to be effective.
"He tells me he's feeling OK," Collins said, "but I'm not sure he can pivot like he wants to on that front ankle. He plants that front foot and he hits against it. In the one at-bat, he almost fell down.
"I just think it's causing him more problems and, again, he wants to play. He's not going to let it get to him. He knows he's not 100 percent. He wants to go out there and play. And I salute that. But we also have got to be careful we don't hurt him in a situation where we lose half the winter trying to rehab his ankles."
Justin Turner started at third base on Saturday and hit fifth in the lineup. Regardless of his health, Flores wouldn't have played, because with ground-ball specialist Jon Niese on the mound for New York, Collins wanted to use his best defensive infield.
Flores, 22, is the Mets' No. 4 prospect. He had both of his ankles taped before Saturday's game.
Collins is worried that if Flores continues playing though pain, he could develop bad habits while trying to compensate for his current limitations.
The manager does not anticipate shutting Flores down for the year because of how important Major League experience is to his development. When Flores does play, though, Collins doesn't want to see him perform poorly because of his injuries and suffer negative evaluations as a result.
"That's unfair to have a kid who's not 100 percent to go out there and struggle," Collins said.
After debuting on Aug. 6, Flores is toting a .219/.266/.301 slash line with three doubles, one homer and 11 RBIs.
Mark Emery is an associate reporter for MLB.com. This story was not subject to the approval of Major League Baseball or its clubs.