Tribe one game back in Wild Card after beating Mets
Tribe one game back in Wild Card after beating Mets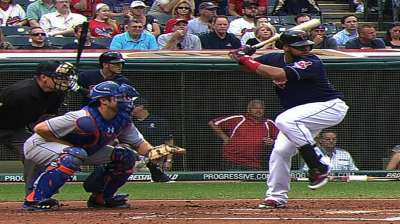 CLEVELAND -- The time has come for the Indians to keep the foot on the accelerator. An American League Wild Card spot is within striking distance and the schedule down the stretch is favorable, making each game a test of the Tribe's mettle.
On Saturday night, the Indians poured out the offense early and piled on late, denying the Mets any ideas of playing spoiler in a 9-4 romp at Progressive Field. Nick Swisher and Asdrubal Cabrera powered the offensive surge, giving the club hope their cold spells can be shaken off over the next few weeks.
"That would be so good," Indians manager Terry Francona said, "to get both those guys hot right at the right time."
That time is now.
With the win, Cleveland has picked up four straight victories and has claimed this Interleague series with the Mets with one game to play. The Indians also moved within one game in the race for the AL's second Wild Card spot, thanks to the Rays' loss in Seattle.
Swisher signed a four-year, $56 million contract over the offseason to step in as a run producer, and Cabrera headed into this campaign as the club's two-time All-Star shortstop. Both have endured prolonged slumps, which have led to changes in the lineup, and a reliance on other hitters to pick up the slack.
A run to Cleveland's first postseason appearance since 2007 could go a long way in helping fans forgive Swisher and Cabrera for missteps within the past few months.
"Me and him have kind of been in that same boat this year," Swisher said. "It's been kind of a frustrating year. But, this is when it really counts. We're trying to bring our game as best we can. As long as we continue to get that dominant starting pitching, man, everything is going to be all right."
Swisher got the Tribe's offense rolling in a five-run outburst in the first inning against Mets lefty Jon Niese. Michael Bourn led off with a single, stole second base and crossed the plate when Swisher pulled a pitch from Niese into the left-field corner for an RBI double. Before the smoke cleared on the first, Ryan Raburn came through with a three-run double that pushed Cleveland ahead, 5-0.
In the second inning, Swisher delivered again. One night after launching a grand slam, the first baseman belted an offering from Niese over the wall in left for a solo home run. The blast marked the sixth in the past 25 games for Swisher, who now has 17 homers on the year.
"He's swinging really good the last couple days," Cabrera said of Swisher.
Cabrera, on the other hand, had been stuck in a long drought heading into the seventh inning.
Mired in an 0-for-19 slump, Cabrera pulled a 2-1 pitch from Mets reliever Scott Atchison down the right-field line, where it stayed just inside the pole for a three-run home run. Cabrera stood at the plate for a moment, watching the baseball in flight, willing it to remain in fair territory. It did, allowing the shortstop to smile.
"That was awesome," Cabrera said. "That felt really good."
Cabrera's shot -- his 10th homer of the season -- came at an opportune time, spreading Cleveland's lead to 9-4 after New York had cut the Indians' advantage to just two runs. In the sixth, the Mets rallied for three runs on a pair of hits against Tribe reliever Vinnie Pestano, who was making his first appearance for the club since being demoted to Triple-A Columbus in late July.
The two waves of offense from the Indians more than made up the difference, and helped Corey Kluber to the win in his first start off the disabled list.
Kluber, who had been sidelined since Aug. 6 due to a sprained right middle finger, looked strong in his return with five innings for Cleveland. Francona made it known that the right-hander would be limited to around 75 pitches, and the manager chose to pull Kluber from the contest at 64 tosses, one batter into the sixth.
"He looked pretty much like he hadn't skipped a beat," Francona said. "For a layoff like that, that was outstanding."
Kluber was charged with two runs on five hits, ending with five strikeouts and one walk.
"I've kind of been surprising myself with how my command's been," Kluber said. "It was nice to get back out there. Hopefully, I can kind of pick up where I left off."
The Indians are hoping Swisher and Cabrera can build on their recent success, too.
"Everything we didn't do in the first five months, we're not going to do in one month," Cabrera said. "We're going to do all we can to help the team."
It's all about the timing.
"We've got 21 games to go," Swisher said. "This is the grind. This is the push. It's been a while since this team has had this opportunity, and we're going to do our best to take advantage of it."
Jordan Bastian is a reporter for MLB.com. Read his blog, Major League Bastian, and follow him on Twitter @MLBastian. This story was not subject to the approval of Major League Baseball or its clubs.