Niese, Mets can't recover from rough first inning
Niese, Mets can't recover from rough first inning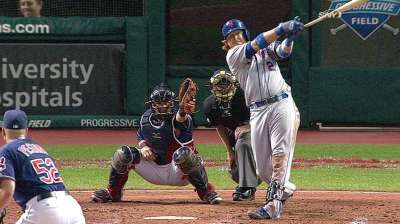 CLEVELAND -- Jon Niese and the Mets fell into an early hole on Saturday night at Progressive Field. Justin Turner and the rest of the offense tried to find a way out, but the Indians had no plans of putting down their shovel in the late innings.
Turner hit a two-run double in the sixth inning as the Mets attempted to make up for the five runs Cleveland plated in the first. New York's comeback efforts weren't nearly strong enough, especially after the Indians' Asdrubal Cabrera hit a three-run homer in the seventh. For the fifth time in the last six games, the Mets lost, this time by a score of 9-4.
"A loss is a loss, this time of year especially," Mets manager Terry Collins said. "Against them, when they're playing so well, once you catch up, you can't let them continue."
Niese, pitching in his native Ohio as a big leaguer for just the fourth time, caught a brutal welcome at the beginning of the game. Each of the Indians' first five hitters reached base. Michael Bourn led off with a single and stole second base before coming home on Nick Swisher's double. Then, Jason Kipnis put a bunt down and benefited from a call at first base, where it was ruled that Lucas Duda's foot never touched the bag.
After that, Carlos Santana hit an RBI single and Yan Gomes singled to load the bases. Niese retired Cabrera but surrendered a three-run double to Ryan Raburn and an infield single to Mike Aviles that went off Mets second baseman Daniel Murphy's glove.
Just when it looked like the inning would never end, Drew Stubbs lined out to Duda, who stepped on first base for a double play.
"That was about the only thing that went my way that inning," Niese said. "Everything was kind of flat today. My fastball, I couldn't locate it very much. But then I was able to throw my cutter and curveball a little bit more, and I was able to find my fastball. I kind of figured it out there at the end. I just wish I had that first inning back."
Niese was able to move past his first-inning woes to give the Mets six frames. In that time, he was charged with nine hits and six runs (five earned), with two walks and five strikeouts.
Niese, who went on the disabled list on June 21 because of a partial tear in his left rotator cuff, threw 108 pitches in the outing. He has reached the century mark in four of his past five starts and said his body feels fine.
"My shoulder feels great. My body feels great," said Niese, who also experienced left leg cramping in his last start. "It's one of those things where I'm kind of taking it easy in between starts. I've kind of shut down the bullpens, just to keep the shoulder fresh. It felt good."
Overall, though, he would like to have pitched better so close to home. The left-hander was born in Lima, Ohio, and attended Defiance High School.
"It's great to have family here watching," Niese said. "I wish I could have given them a better effort today. I just treat it as any other start though. I just want to go out there and give the team a chance to win."
The Mets and Indians traded runs during the second inning. Matt den Dekker singled in Turner -- who had singled to center -- from second base. In the bottom of the frame, Swisher belted a homer to left.
The Mets put a sizable dent in Cleveland's five-run lead in the sixth. Tribe starter Corey Kluber walked leadoff hitter Eric Young Jr., leading Indians manager Terry Francona to turn to lefty Rich Hill. Hill struck out Murphy and Zach Lutz but walked Duda. That brought righty Vinnie Pestano into the game. He faced just two hitters: Turner, who crushed a two-run double to center, and Juan Lagares, who singled in Turner.
Alas, the Mets would come no closer to tying the game. Indians southpaw Nick Hagadone closed the inning by striking out den Dekker. And in the seventh, Cabrera launched a three-run homer off right-hander Scott Atchison to turn the game into a blowout.
Kluber, whose start was his first since Aug. 5, was charged with five hits and two runs across five-plus frames. He left after one walk and five strikeouts.
"I've kind of been surprising myself with how my command's been," said Kluber, who had been sidelined with a sprained right middle finger. "That continued tonight, I guess. They were an aggressive team. They had some swings on pitches early in counts and gave me some quick outs, too."
The Indians, who are right in the hunt for an American League Wild Card spot, have won four in a row and five of the last six. The seeds to their latest victory were sown early.
"It was a tough first inning," Niese said. "The offense did a good job battling back to keep us in the game. But then it just got away from us unfortunately."
Mark Emery is an associate reporter for MLB.com. This story was not subject to the approval of Major League Baseball or its clubs.