Infante moves up in order after five-hit game
Infante moves up in order after five-hit game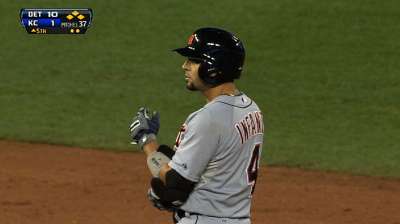 KANSAS CITY -- Coming off a five-hit, six-RBI night and facing Royals left-hander Danny Duffy, Omar Infante was moved to the No. 6 slot in the batting order on Saturday.
The right-handed-hitting Infante had batted in the No. 8 hole in Friday night's 16-2 win in the series opener against right-hander James Shields.
"I didn't move him up because he had six RBIs, I moved him up because we're facing a left-handed pitcher and the lineup looks a little different," manager Jim Leyland said.
Infante's 5-for-5 game on Friday lifted his batting average to .328. That would rank third in the American League behind only Miguel Cabrera and Mike Trout if Infante had enough plate appearances.
Infante has shown before that he can hit for a high average over a long period of time.
In his All-Star season with Atlanta in 2010, Infante was third in the National League with a .321 batting average in 471 at-bats.
Robert Falkoff is a contributor to MLB.com. This story was not subject to the approval of Major League Baseball or its clubs.