Getz cleared after passing concussion tests
Getz cleared after passing concussion tests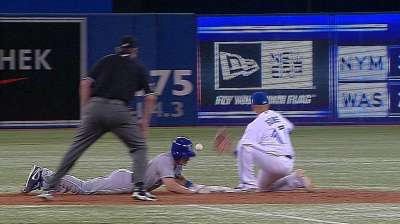 KANSAS CITY -- Royals second baseman Chris Getz, who left Tuesday night's game with dizziness and an upset stomach, was cleared to play prior to Friday night's 16-2 loss to the Tigers after passing concussion tests.
Getz left the 4-3 win over the Mariners after two innings, shortly after being jarred while making a fielding play. He did not return for the third inning.
"I haven't even really looked at the play to be honest," Getz said. "It was more of how I reacted and how I felt, and then they put me through tests and you have to pass those tests for precautionary reasons."
Entering Saturday night's game, Getz was batting .225 through 20 games.
Kathleen Gier is an associate reporter for MLB.com. This story was not subject to the approval of Major League Baseball or its clubs.