Starters, youngsters affect second-half improvement
Starters, youngsters affect second-half improvement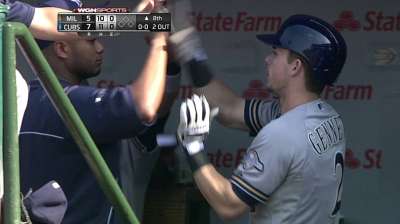 CHICAGO -- The Brewers went 38-56 in the first half of the season, done in mostly by a difficult month of May, in which they posted a 6-22 mark. But since the All-Star break, Milwaukee has played close to .500 baseball, entering Saturday's game against the Cubs with a 22-24 mark in the second half.
Much of that improvement can be attributed to better pitching and key contributions from younger players who are getting more playing time, leading to a sense of cautious optimism about 2014.
In the first half, the Brewers' pitching staff had an ERA of 4.13. Since the All-Star break, it was nearly half a run lower at 3.66 entering play on Saturday.
"The starters got it together and started to really pick it up," said Brewers pitching coach Rick Kranitz. "And that's huge, because our bullpen really saved us in the first half and they threw a lot of innings, more than they should have."
Kranitz added that instability in the starting rotation early in the season caused the staff to struggle, but now that starters are in more of a routine and the results of what they can do are beginning to show.
"We had [Kyle] Lohse that came in late, he misses Spring Training [and] we had a couple of guys that came in off of the World Baseball Classic," Kranitz said. "So I think it was more [about] getting their rhythm and getting it going. ... We were in and out with a couple of guys, Marco [Estrada] had gotten hurt. There wasn't any stability. And then finally Kyle got on track, and I think those other guys kind of starting following suit."
Along with improved pitching, midseason injuries and a team that is out of playoff contention have necessitated increased action for younger players, who have shown signs of what the future may hold for the club.
One of the most important young contributors has been rookie second baseman Scooter Gennett, who has played well as a fill-in for injured second baseman Rickie Weeks. Gennett entered Saturday hitting .333 (45-for-135) in 47 games for Milwaukee.
"[Management and the coaching staff] can't feel too bad knowing how we've been playing lately and what the future holds for our team," Gennett said. "You put a couple of key players in key spots in our lineup, which I think next year will happen with the guys that we've got coming back, and I think the future is really bright. Personally, I'm excited for Spring Training next year and I'm sure a lot of [my teammates are, too]."
Manager Ron Roenicke said that the Brewers are in a similar position in terms of evaluating young talent this season as they were in 2012, and that future performance can be projected, but never known for certain.
"[The recent improvements] should give us positives [to look forward to]," Roenicke said. "The problem with that is last year we went through the same thing. We had all these young guys coming up and they all pitched well. You go into this season figuring those young guys are going to pitch well, and they didn't pitch well. So sometimes that's misleading.
"You just hope you have enough veterans, and you've picked the right young guys, that they do have a chance to perform well here and are ready mentally. ... Sometimes it works, and sometimes it doesn't."
Manny Randhawa is an associate reporter for MLB.com. This story was not subject to the approval of Major League Baseball or its clubs.