A's use DH to get Norris, Suzuki in same lineup
A's use DH to get Norris, Suzuki in same lineup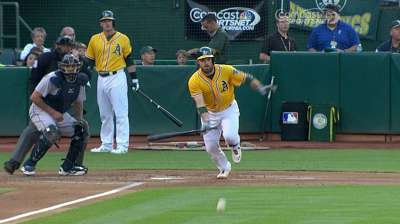 OAKLAND -- With the acquisition of catcher Kurt Suzuki came curiosity as to how A's manger Bob Melvin would handle having two right-handed-hitting catchers in the lineup upon Derek Norris' return off the disabled list on Thursday.
The answer, at least Saturday against the Astros, is to play both of them. Suzuki got the nod at catcher, while Derek Norris, who caught Friday, served as the team's designated hitter against Astros left-hander Brett Oberholtzer.
"The way that Derek's been swinging the bat against lefties basically all year and the guys we have in the lineup, it makes sense to give him some at-bats against the lefty," Melvin said.
Norris doesn't appear to be slowed down by the left left big toe he broke two weeks ago. He went 1-for-3 in his first game back Friday and is hitting .345 with five of his eight home runs since July 1. Against lefties, he's batting .312 with all eight of his home runs.
Coco Crisp has also been on a hot streak, but he was given the day off Saturday to rest up for an upcoming 16 straight games after an off day on Monday. Crisp tripled Friday and has an extra-base hit in each of his last seven games, hitting safely in each of his last nine games and batting .344 with 19 runs, four doubles, one triple, eight home runs and 14 RBIs over his last 16 games.
"This day was on the docket for him," Melvin said. "We try to be careful with him to keep him healthy. He plays hard, he plays with that style in every inning of every game, and we've gotten ourselves into trouble at times maybe pushing a little too hard.
"It's always difficult to do. It's not like I enjoy giving him a day off at this point in time. But we feel like it's the prudent thing to do."
Crisp is coming off a recent wrist injury that kept him out of a handful of games in late April, and he left game early after fouling a ball off his right knee. Jed Lowrie batted leadoff for the A's in Crisp's absence for fifth time this season.
Jeff Kirshman is an associate reporter for MLB.com. This story was not subject to the approval of Major League Baseball or its clubs.