Four-run fourth helps Hellweg notch first career win
Four-run fourth helps Hellweg notch first career win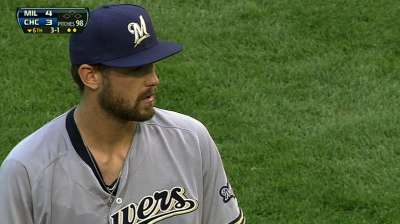 CHICAGO -- It took four starts for the Brewers' Minor League Pitcher of the Year to earn his first big league win. But on Saturday afternoon, Johnny Hellweg got what he was looking for.
The 24-year-old right-hander tossed six innings, giving up three runs on four hits, and Logan Schafer came through with a bases-clearing triple in the fourth inning as the Brewers beat the Cubs, 5-3, at Wrigley Field.
"It feels good to go out there and put up six innings and give the team a chance to win," Hellweg said. "It's a good feeling to have going into my next start."
Hellweg had been winless in his first three big league starts, posting a 10.97 ERA (13 earned runs in 10 2/3 innings) in four overall appearances. He was recalled from Triple-A Nashville on Sept. 3.
The rookie walked three and struck out one.
"That was good to see," Brewers manager Ron Roenicke said of Hellweg's outing. "As the innings went on, his stuff got better, his location got better, [and] I thought he pitched more with his changeup and breaking ball. So, hopefully this is the guy we're going to see [in the future]."
With two on and no outs in the fourth, Scooter Gennett grounded an RBI single past diving shortstop Starlin Castro to get the Brewers on the board. Caleb Gindl walked to load the bases and Schafer lined a 2-0 sinker from Cubs starter Jake Arrieta into the right-center field gap to give the Brewers a 4-2 lead.
"I knew that [Arrieta] didn't really have anywhere to put me," Schafer said. "With a 2-0 count, I was basically just dead-red and put a good swing on something and stayed within myself. So it was really nice to feel the barrel of the bat and get to run around those bases."
"When Schafer came up, I got 2-0 and tried to be too fine rather than just pound the zone," Arrieta said. "When it was 2-0, bases loaded, I had to come at him, and I left a sinker right in the middle of the plate. He didn't try to do too much. He just shot a ball in the gap in the right spot to clear the bases."
Coming into the game, Schafer -- who tied a career high with three RBIs -- had been hitting .192 (14-for-73) since the All-Star break, though not in an everyday role.
"Schaf is off-and-on," Roenicke said. "He comes through with some big hits. So I don't want to say that he's been struggling so much. He's still been getting some big hits for us. But any time you do that, it's great to see and those guys on the bench, especially when guys aren't playing every day, it's huge when you can get a hit like that."
The Cubs jumped out to a 2-0 lead in the second when Luis Valbuena hit a two-run homer to right off of Hellweg. In the sixth, Brian Bogusevic hit a solo homer to right to make it 4-3.
The two homers Hellweg surrendered were the first two he had allowed all season.
"[The pitches to Valbuena and Bogusevic] weren't very good pitches," Hellweg said. "I think they were both pretty much middle [in the strike zone]."
Hellweg said that a key for him was his ability to get ground balls.
"When I was working down in the zone, they were hitting it on the ground and I was getting some ground balls," Hellweg said. "The ground ball was huge for me today."
Hellweg induced 11 ground balls out of the 18 outs he recorded, including one that resulted in a 6-4-3 double play to end the second inning following Valbuena's two-run homer and a single by Arrieta.
"That hard sinker, late sinker [that] you don't really see [was effective]," Roenicke said. "But he mixed in enough other pitches [and catcher Jonathan Lucroy] did a nice job calling the game."
Lucroy hit a two-out RBI triple in the ninth to drive in Norichika Aoki for the final run of the game.
Rob Wooten and Brandon Kintzler combined for two scoreless frames in relief and Jim Henderson picked up his 23rd save of the season.
With his outing, Wooten lowered his road ERA this season to 0.77 (one run in 11 2/3 innings).
The Brewers improved to 52-1 this season when leading after eight innings. Milwaukee has also won 13 of its last 21 road games and nine of its last 14 against the Cubs.
Manny Randhawa is an associate reporter for MLB.com. This story was not subject to the approval of Major League Baseball or its clubs.