Two homers provide offense, but Arrieta struggles
Two homers provide offense, but Arrieta struggles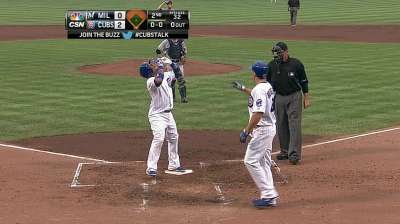 CHICAGO -- The Cubs outhit and out-homered the Brewers, but also walked too many.
Logan Schafer tripled with the bases loaded in the fourth inning to lead the Brewers to a 5-3 victory Saturday over the Cubs in front of 34,929 at Wrigley Field.
Chicago starter Jake Arrieta was cruising until the fourth. The key for the right-hander, Cubs manager Dale Sveum said, was his fastball command and whether or not he could put batters away after getting two strikes on them.
The Cubs gave the right-hander a 2-0 lead in the second as Brian Bogusevic walked to lead off, battling Johnny Hellweg in a 10-pitch at-bat. Luis Valbuena followed with his 10th home run, sending a 1-1 pitch into the basket rimming the right-field bleachers.
Teams are batting .182 the first time through the lineup against Arrieta, and .260 the second time. It was those second at-bats against the Cubs starter in the Brewers' fourth that hurt.
Jonathan Lucroy singled to lead off the inning and Aramis Ramirez walked to set up Scooter Gennett's RBI single. Arrieta threw first-pitch strikes to the first three batters in the inning, then four straight balls to Caleb Gindl to walk him and load the bases. Arrieta settled down and struck out Juan Francisco on three pitches, then served up a triple to Schafer, which cleared the bases and gave the Brewers a 4-2 lead.
"First and foremost, I got a little too fine with a couple of those walks, and then I got myself into a situation," Arrieta said of the inning. "When Schafer came up, I went 2-0 [in the count], and tried to be too fine rather than just pound the zone. When it was 2-0, bases loaded, I had to come at him, and I left a sinker right in the middle of the plate.
"He didn't try to do too much, he just shot a ball in the gap in the right spot to clear the bases. I backed myself into a corner with those walks."
"I knew that he didn't really have anywhere to put me," Schafer said. "With a 2-0 count, I was basically just dead-red and put a good swing on something and stayed within myself. So it was really nice to feel the barrel of the bat and get to run around those bases."
Command has been an issue for Arrieta.
"He got 2-0, and you're hoping to keep that ball down, and he got it belt-high," Sveum said. "You're hoping for a ground ball, but he got it belt-high and Schafer lines it in the gap."
Arrieta now has walked three or more in five of his six starts, while holding opponents to a .178 opponents' batting average. In the game, six Chicago pitchers combined to walk seven batters.
"It's just one inning and we lose it, and start throwing scud fastballs and short fastballs and can't get back in the counts, and we lose guys not getting secondary pitches to get back in the count," Sveum said. "That'll come back and haunt you."
Arrieta knows what he has to do to fix things.
"I've been here before, and I know what I have to do to correct it," he said. "I'll be all right moving forward."
The Cubs notched six hits, including Bogusevic's solo home run with two outs in the sixth off Hellweg to close to 4-3. Chicago now has 95 home runs at Wrigley, and the team leads the National League in homers at home.
"I've seen him a couple times now from when he was in [Triple-A] Nashville," Bogusevic said of Hellweg. "When he's throwing strikes, he's tough, and he pitched well today."
But Norichika Aoki reached on an error by Starlin Castro in the ninth and scored on Lucroy's RBI triple with two outs, and the Cubs lost for the 13th time in the last 20 games. It was also their 20th loss in their last 27 home games.
Arrieta isn't the only player being evaluated in the final month. The game marked the debut of Korean pitcher Chang-Yong Lim, 37, the 54th player the Cubs have used this season. That sets a franchise record, topping the old mark of 53 set last year. He walked pinch-hitter Sean Halton and served up a single to Aoki, his former teammate in Japan, but he escaped trouble when Jean Segura grounded into a double play.
At 37 years, three months and four days, Lim is the second-oldest pitcher since at least 1901 to make his Major League debut with the Cubs.
"He didn't have a lot of control either," Sveum said of Lim. "That seemed to be the story of the day."
Carrie Muskat is a reporter for MLB.com. She writes a blog, Muskat Ramblings, and you can follow her on Twitter @CarrieMuskat. This story was not subject to the approval of Major League Baseball or its clubs.