Another night, another tough loss for Rockies
Another night, another tough loss for Rockies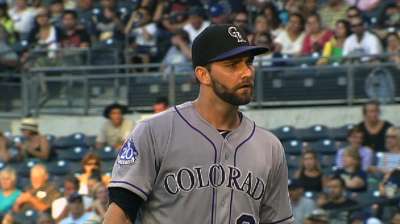 SAN DIEGO -- The Rockies' quiet frustration continued on Saturday night.
Colorado managed just three hits in seven innings against San Diego starter Tyson Ross, and saw a chance to take the lead disappear in the eighth. Then Padres rookie Jedd Gyorko barely cleared the right-field wall with an eighth-inning home run that sent the Rockies to a 2-1 defeat at Petco Park.
It was the second straight close, late loss. On Friday night the Rockies gave up two ninth-inning runs to fall to the Padres, 4-3. This time the Rockies lost two scoring chances when runners were doubled off base.
Gyorko's game-winner -- his 17th homer of the season -- came off reliever Matt Belisle (5-6).
"[Gyorko] got a fastball, first pitch out over the plate, and put a good swing on it -- he got the barrel to it," manager Walt Weiss said.
Belisle has appeared in more games (295) over the last three seasons than any pitcher in the Majors, and he has had some periods of diminished effectiveness this season, but Weiss didn't blame Saturday's performance on fatigue.
"I don't know how much there is to that," Weiss said. "He's a horse. We tried to give him some rest this year and tried not to overuse him. We've tried to be careful. We still have used him in a lot of important situations, so I don't know how much truth there is to that. He just had an elevated fastball up over the plate."
Said Gyorko: "I've faced him a few times before. I wasn't sure if it was going to get out. When it's a little warmer, it seems like the ball travels well. Hopefully, it stays warm the rest of the year."
Gyorko's homer came after the Rockies finally showed some offensive life in the top of the frame.
Charlie Blackmon opened the inning with a single off reliever Luke Gregerson (6-7), and pinch-runner Charlie Culberson stole second with one out. DJ LeMahieu singled to left fielder Chris Denorfia, who made a pinpoint throw to the plate on the fly, but catcher Nick Hundley didn't hang on after tagging Culberson, and the Rockies tied the score. LeMahieu ended up at third.
With the count full, Troy Tulowitzki took a Gregerson slider and began to head to first, but plate umpire Bill Miller ruled the pitch a strike. Tulowitzki protested before Weiss emerged from the dugout to pull Tulowitzki from the confrontation.
"I didn't feel it was a strike," Tulowitzki said. "It is frustrating when you have those. The go-ahead run was right there. You want to knock it in. But it doesn't happen all the time in this game."
Gyorko's homer furthered the Rockies' disappointment.
The only hits off Ross were Tulowitzki's first-inning single, Corey Dickerson's double in the sixth and Todd Helton's ground-rule double in the seventh. Helton tied Rafael Palmiero for 16th all-time with 585 doubles, but even that led to disappointment.
Two batters later, Padres right fielder Will Venable made a diving catch of Yorvit Torrealba's line drive and threw to second to double off Helton, who was running on contact.
Venable's catch bailed out Ross, who otherwise handled the Rockies just fine. Ross went seven innings, striking out five. It was his second straight strong outing after fanning 10 and holding the Dodgers to five hits in a no-decision on Sept. 1.
"He's gotten better. They've made some adjustments with him," Tulowitzki said. "The slider has been a plus pitch, and he's throwing the fastball on both sides of the plate. He had good stuff, as you can see."
The game also saw the Rockies' second straight solid starting pitching performance go unrewarded.
Right-hander Tyler Chatwood gave up one first-inning run, on Alexi Amarista's hard one-hop grounder with the bases loaded and two out. Chatwood went six innings and held the Padres to that run on five hits. The previous night, Juan Nicasio held the Padres to two runs -- one earned -- and struck out seven in six innings.
It was Chatwood's first outing since last Sunday, when he sustained a bruise to his right thumb against the Reds. He showed no ill effects, but he did feel the frustration.
"We've been right in the middle of these games, and it's come down to the last inning both nights," Chatwood said. "We've just got to catch a break."
Michael Cuddyer singled off Huston Street (who earned his 28th save) to open the ninth. Two batters later, however, Amarista caught Nolan Arenado's soft liner in center and threw to first to double off Cuddyer, who had taken off for second and didn't realize the ball was in the air until it was too late.
Thomas Harding is a reporter for MLB.com. Read his blog, Hardball in the Rockies, and follow him on Twitter @harding_at_mlb. This story was not subject to the approval of Major League Baseball or its clubs.