Oberholtzer drops duel with A's Straily
Oberholtzer drops duel with A's Straily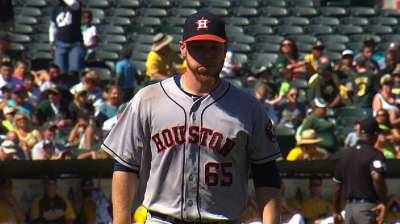 OAKLAND -- Rookie Brett Oberholtzer had pitched so well in the first half-dozen starts of his career that Astros manager Bo Porter was asked whether he'd like to see Oberholtzer be tested before the 2013 season is out.
"We'll test him next spring," Porter said. "We want him to have a good performance today."
That's just what the Astros got from the left-hander on Saturday afternoon, but it still wasn't enough.
Oberholtzer escaped every uncomfortable situation and yielded just a solo home run to Yoenis Cespedes but was outdueled by A's right-hander Dan Straily in Houston's 2-1 defeat at the O.co Coliseum.
The 24-year-old had compiled a 1.98 ERA and won four of his first six starts since his callup on the last day of July. On Saturday, he retired the side in order in just two of his six innings but was charged with only one run on seven hits. Throwing 69 of his 100 pitches for strikes, he struck out five and didn't issue a single free pass.
"He just mixed enough to keep guys off balance," said A's shorstop Jed Lowrie, who singled once in three at-bats against Oberholtzer before hitting a home run against reliever Josh Zeid in the seventh inning. "It was the first time I've seen him. I was impressed. He knows how to pitch."
The recipe was simple: fastball and changeup with an occasional curveball.
"I just continued to feed off the way I have been pitching the last few outings," Oberholtzer said. "I made some key pitches in key situations to get out of jams. That's been the key to my success."
So call Oberholtzer (4-2) a tough-luck loser. For a variety of reasons, the Astros couldn't get their offense started. Straily yielded just two hits over seven shutout innings.
Prior to the game, Houston hitting coach John Mallee was seen telling one Astros hitter: "Only swing at the slider if it's up here," while raising his flattened, palm-down hand up above his waist. A handful of Straily's seven strikeouts appeared to occur on late breakers.
"I feel like he did a good job of expanding the strike zone once he got to two strikes," Porter said. "He did it both ways: he expanded with his fastball at the top of the zone and with his breaking ball down and out of the zone."
There were other factors at work. On the second occasion this week, shortstop Jonathan Villar was thrown out attempting to stretch a single into a double in the third inning. Like Wednesday's game against the Twins, Villar's miscue ended a would-be rally. Villar lined a Straily pitch into left field, where Cespedes came up throwing. The Astros would have had runners on first and third with two outs for No. 2 hitter Jose Altuve had Villar put on the brakes.
"We had to be aggressive," Porter said. "We pick our spots and take our chances. Sometimes it doesn't work out."
A baserunning mistake by the A's in the bottom half of the frame ended their own potential rally against Oberholtzer. Josh Donaldson's single into right field should have loaded the bases, but Kurt Suzuki was caught in a rundown between third base and home plate after right fielder Trevor Crowe's strong throw caught Lowrie straying too far past second.
Oakland bypassed putting runners on base in taking its first lead of the game, 1-0, when Cespedes pulled a hanging 1-1 changeup offering into the seats. Oberholtzer had struck out Cespedes on a better iteration of the offspeed pitch in their preceding matchup, in the first inning.
The Astros advanced a man into scoring position for the first time in the fourth when Cespedes dove for but came up short on Matt Dominguez's double into left field. Straily sat down the next two batters, Chris Carter and Brett Wallace, on strikes before inducing Matt Pagnozzi's inning-ending groundout.
Carter fanned twice to extend his big league high in the category. He has struck out 189 times, or 18 more than Boston's Mike Napoli.
Brandon Barnes continued to have a tough series, too. The Astros center fielder was ruled out in the sixth inning when he struck a ground ball to third base but never started running toward first. One night after he was ejected after appearing to not get out of the way of a hit-by-pitch, he reacted as if he fouled Straily's offering off his lower left leg. Barnes returned to the Astros dugout but without voicing his frustration.
"It hit me in the toe, but it's hard for the umpires to see it," Barnes said. "If I feel like I got hit, I'm not going to run."
Porter said that was the reasoning he explained to home-plate umpire Greg Gibson.
"We don't replay as we stand here today. My position to the umpires was, 'If the ball didn't hit his foot, he would have ran,'" Porter said. "They collectively got together, which is all you can ask them to do. ... Nobody on the crew saw the ball hit his foot, therefore he was out."
The Astros finally broke through in the eighth when Wallace, who had stroked a one-out double off reliever Dan Otero, advanced to third on pinch-hitter Marc Krauss' single and scored on Barnes' fielder's-choice groundout. Representing the potential game-tying run, Barnes was caught attempting to steal third base with two outs. He had the "green light" to go, according to Porter.
"I was straight stealing," Barnes said. "Stealing third, you just got to go. As soon as I saw him pick off, I took off."
With 20 games left in their 2013 season, the Astros takes on the Athletics final game of their four-game series on Sunday. Houston needs a win to secure a split.
"We fight, we're never going to give up," Barnes said. "It's one of those things where we're a young club and we're learning as we go, but we're not going to give up."
Andrew Pentis is a contributor to MLB.com. This story was not subject to the approval of Major League Baseball or its clubs.