Brown not going to rush back from Achilles injury
Brown not going to rush back from Achilles injury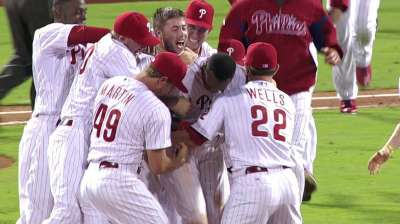 PHILADELPHIA -- All-Star outfielder Domonic Brown left the Phillies' game at Wrigley Field with a sore right Achilles tendon on Aug. 30. He pinch-hit the next two games, but was still feeling pain. So he was shut down. At the time, it was thought he'd miss a week to 10 days.
Sunday's game against the Braves at Citizens Bank Park ends the first full week Brown has been out. And interim manager Ryne Sandberg said Saturday that while he expects Brown to return before the regular season ends on Sept. 29, the organization will be careful not to hurry him.
"He's not doing any baseball activities," Sandberg said. "He's on a complete shutdown for a number of days. No set amount. Just to get any swelling or soreness out of the Achilles area. Just to get that all behind him. Once he gets to that point, he'll get on the field to do some things and we'll monitor him closely and see when he's actually ready to get back into a game. We'll take it slowly.
"The initial thing was a week to 10 days. If it takes two weeks, it takes two weeks. If it takes 20 days, it takes 20 days. Whatever it is. It will be up to him with the total rest. And as he gets back on the field and does baseball activities, it will be practice only. Then see how that responds the next day. It will be a careful situation with him."
There are a couple reasons why the team is proceeding with such caution. One is that the Phillies aren't in contention. The other is the experience with Ryan Howard, who tried to play through an Achilles injury, only to have it rupture completely.
"That's one thing. This time of the year, and you're talking the Achilles, absolutely. To allow him to play a game and feel pain in that area, I don't think that's very smart, either, because it hasn't worked. He tried taking [two] days off, said he was pain free, played a couple games and it came right back. So we're going to be more on the cautious side this time around."
Paul Hagen is a reporter for MLB.com. This story was not subject to the approval of Major League Baseball or its clubs.