Simmons rallies Braves, who then fall on walk-off shot
Simmons rallies Braves, who then fall on walk-off shot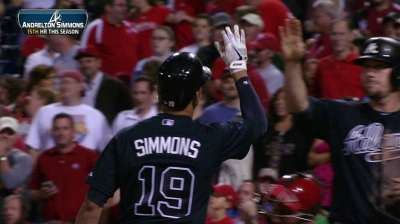 PHILADELPHIA -- Through eight tough pitches on Saturday night, Andrelton Simmons battled Jonathan Papelbon, three times fouling off potential game-ending strike threes before lining a game-tying two-run homer into the first row of the left-field stands at Citizens Bank Park.
"I learned that from Chipper [Jones] last year. No matter what, stay calm," said the young shortstop.
And when, two batters into the bottom of the ninth, the Braves nevertheless lost, 6-5, on Freddy Galvis's opposite-field homer to right off Freddy Garcia, surely their 13-game lead in the National League East with 21 games remaining left them as unruffled as Chipper would have expected.
Still, Atlanta's third straight loss, which left the magic number for clinching the division at nine, was a frustrating one regardless of the Braves' inevitable participation in the postseason.
Starter Alex Wood, handed a two-run lead in the third inning that he promptly handed back, failed to last five innings for the second straight start, after having pitched to a 1.46 ERA in his previous six. Nevertheless, the Braves overcame a two-run single by Carlos Ruiz, then another RBI single by the Phillies' catcher, to cut a 4-2 Phillies to one with Chris Johnson's seventh-inning RBI double. And after Luis Avilan gave up an insurance run in the eighth, the Braves still rallied, only to lose on one bad pitch.
"We left a ball over the plate, and Freddy Galvis got us and we're walking off," said manager Fredi Gonzalez, who had passed on the option of using a rested Craig Kimbrel on the road in a tie game.
"I have done it both ways," said Gonzalez. "I've done it every single way.
"It depends on the lineup coming up and that kind of stuff. Garcia can go a couple innings."
Instead, he went a couple batters, retiring Cody Asche on a popup, and then throwing a changeup over the plate that the reserve infielder Galvis tagged for his fifth homer, leaving the Braves to feel good only about the fact that they didn't roll over.
"At least we left it all out there," said Simmons. "We played our butts off and battled back into the game."
"[Papelbon] made some tough pitches. I was looking for a mistake, fouled off a tough one, and gained a good pitch to hit. Luckily, I got to it."
Unluckily for him, it turned out to be just statistics, like Freddy Freeman's 95th and 96th RBIs on a bases-loaded, two-out single in the third inning. The hit scored Dan Uggla, who had been hit by a pitch, and Simmons, who had singled, and the Braves were staked to a 2-0 lead against a struggling-of-late Kyle Kendrick.
But Wood gave it right back in the bottom of the inning, set up by Kevin Frandsen's one-out double over the head of left fielder Evan Gattis. Cesar Hernandez, who had singled, stopped at third and, thanks to the good fortune of Chase Utley's hard drive hooking right into the glove of Justin Upton in right, it appeared that Wood might wriggle away. But after falling behind in the count, 0-2, Ruiz sharply grounded a 3-2 fastball into left field to knot the score at 2.
Wood escaped further damage when Asche's two-out smash went to straightaway center, and a perfectly placed B.J. Upton. But with one out in the fifth, Utley went the other way with a 3-2 fastball and dropped it near the left-field line for a double. Ruiz followed with a double over Gattis' head to drive in Utley, then Galvis' ringing two-out single up the middle scored Ruiz, putting the Phillies up, 4-2, and finishing Wood's night after 94 pitches.
"I haven't had two starts like the last two the whole year at any level," said the rookie. "It's really frustrating, we are tying to clinch the division.
"From a personal and team standpoint, it's frustrating from both sides, because I am not doing what I want to do when I go out there. I pride myself in making pitches when I need to, and to Ruiz and Galvis, I didn't. I had them where I wanted them and made mistakes. I tried to go hard in to both guys and just left it over the plate."
The Braves got a run back in the sixth when Freeman dropped a single into center, and Gattis walked. Gattis was erased when Brian McCann hit into a double play, but Johnson's double pulled Atlanta within a run.
The Braves lost Scott Downs to a non-displaced finger fracture of his glove hand in the seventh, on an Utley smash to the box, forcing Gonzalez to burn three pitchers to get through the inning. The relievers were successful, keeping Atlanta within one until the eighth, when Frandsen's single drove in Hernandez.
Simmons had squandered one Braves opportunity to tie in the seventh, when he broke too soon on a steal attempt of third and was caught by reliever Justin De Fratus. After an extended rundown, Simmons was tagged out.
"He picked the right pitch," said Simmons. "He might have baited me. I had a big lead, thought I would [make] it, took a couple early steps and he spun.
"You can either beat yourself up or tell yourself if you would have made it then you put your team in a good position. Unfortunately, it's a bad play if you get caught. But you've got to keep playing."
Which he did to the end. With two outs in the ninth and Johnson on first after a bloop single that barely eluded right fielder Roger Bernadina's glove, Simmons connected, good for something, he figured, just not a victory.
If it meant anything to the Braves, the Phillies thought it was a big deal that they, too, persevered, especially considering the caliber of the competition.
"I think it means a lot," said interim manager Ryne Sandberg. "There are games to be played and there are games to be won.
"But I think the quality of baseball and the improved baseball against a team like the Braves shows the resilience in the guys. There is good baseball being played, and that's what you have to do to beat the Braves."
Jay Greenberg is a contributor to MLB.com. This story was not subject to the approval of Major League Baseball or its clubs.