Murphy getting extra tutelage from Girardi
Murphy getting extra tutelage from Girardi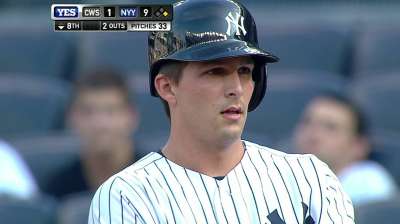 NEW YORK -- JR Murphy is seven days into his Yankees career, and he's already gotten plenty of tutelage from a quartet of catchers with a combined 39 years of Major League experience.
The rookie catcher has worked closely with manager Joe Girardi and bench coach Tony Pena since being called up from Triple-A Scranton/Wilkes-Barre on Sunday, and he's also spent a lot of time picking the brains of catchers Chris Stewart and Austin Romine.
"It's always good to have more than one head," Murphy said. "There's a million ways to catch, and there's a million ways to do everything else. So the more ideas you can get, the better."
Murphy has gone on the field with Girardi and Pena before a few games and worked with them on the physical aspects of catching, including blocking and throwing.
"We're just working with the young kids on all parts of the game," Girardi said. "I wanted to watch J.R. do his work because I've seen the other guys on a regular basis this year, but I wanted to watch J.R., and he's working hard. He's trying to stay prepared in case he gets in."
Murphy's also spent a lot of time talking to Stewart and Romine, asking questions about the Yankees' pitcher's tendencies, other lineups and how they like throwing to certain guys.
Murphy has caught only one inning so far, and Girardi said on Friday he probably wouldn't catch much because he's not that familiar with the Yankees' pitching staff. But if Murphy does have to catch, he said he "wants to be prepared."
The rookie's first career inning behind the plate came in the ninth inning of Friday's loss to the Red Sox. Matt Daley was on the mound for the Yankees, and Murphy had experience catching him from their time together with the RailRiders.
Daley and Murphy faced Will Middlebrooks, Shane Victorino, Quintin Berry, Dustin Pedroia and David Ortiz in the inning. Middlebrooks and Victorino both struck out, and Ortiz grounded out to first after Pedroia's double to end the inning.
"It was exciting. I was still nervous, because I hadn't been out there catching yet," Murphy said.
"I think it made it a lot more comfortable, because I know [Daley] so well. I could just pitch to his strengths and go from there."
Murphy said he hasn't thought much about what his time with the Yankees this season could mean for next year. He's just focused on continuing to learn and, hopefully, contributing to the club's run to the postseason.
"You can never have it all figured out," Murphy said. "The more you learn and learn, you keep your mouth shut and your ears open, and there's a lot you can take from it."
Josh Vitale is an associate reporter for MLB.com. This story was not subject to the approval of Major League Baseball or its clubs.