Huff's struggles too much for Yanks to overcome
Huff's struggles too much for Yanks to overcome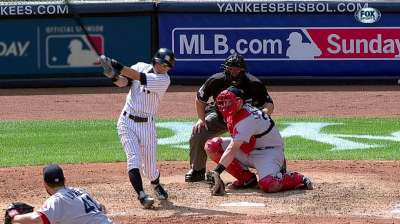 NEW YORK -- The Yankees came into this big four-game showdown with the Red Sox whispering that, if everything somehow went right over the weekend, they still might be able to make a serious run at the American League East title.
Three losses later, just qualifying for postseason play seems like it will be a tall enough order. New York's pitching staff has been unable to keep up with the Red Sox, who slugged four home runs in a 13-9 victory on Saturday at Yankee Stadium.
"They definitely capitalize on mistakes," said David Huff, who allowed nine runs in his first Yankees start. "On my behalf, it was terrible. To come off what I've been doing here and to have that happen today, it was just embarrassing."
The Yankees' spirits were not helped by the chance of another injury to 39-year-old captain Derek Jeter, who is dealing with soreness in his surgically repaired left ankle. A CT scan taken after Jeter was removed for a sixth-inning pinch-runner was negative, but the team is not sure if he will be able to play on Sunday.
"If these games didn't count, he could take a few days off or his bounce backs would be different, but he's like everybody else," Yankees general manager Brian Cashman said. "He knows there's no time for the weary here."
An overtaxed and depleted bullpen has forced manager Joe Girardi to explore the deeper areas of his expanded roster, and the Sox have feasted, even as the Yankees have produced 25 runs through the first three games of the series.
The events of this weekend are unprecedented: the Yankees have lost three straight games while scoring seven or more runs for the first time in franchise history, according to the Elias Sports Bureau.
"Right now, they're not missing pitches," Girardi said. "We talked about when they came in that they're swinging the bats extremely well, and they're continuing to do that."
Huff lasted just 3 1/3 innings, serving up long homers to Mike Napoli and Jonny Gomes, and Jim Miller -- added to the roster earlier in the day -- made his Yankees debut by allowing Xander Bogaerts' first big league homer in the fifth inning.
"You can't afford to not be firing on all cylinders or they'll take advantage," Cashman said. "And they've been taking advantage on every extra inch you give. Despite that, our guys keep fighting."
Napoli homered twice for Boston, enjoying a hot stretch that saw him reach base in nine straight plate appearances. The slugger also went deep in the ninth inning, marking the only dent in 4 1/3 sharp innings from Brett Marshall.
It was Napoli's 11th career homer against the Yankees -- six of which have come this year.
"That's where they are right now. They're not missing mistakes," Girardi said.
Huff had shown enough promise in his nine relief appearances that voices outside the organization were clamoring for him to replace the struggling Phil Hughes in the rotation.
Since Huff has been listed as the Yankees' probable starter for Thursday at Baltimore, his audition figures to last more than one turn, but the initial results weren't pretty.
After a perfect first inning, Huff was rattled by Napoli's first homer, which came on a 3-0 count and surprised the left-hander. Overall, Huff allowed eight hits, including Gomes' three-run shot in the third.
"I started out aggressive in the first inning," Huff said. "As soon as the [Napoli] home run happened, I started getting too fine with my pitches and started nibbling a little bit."
Huff saw the Yankees in a 9-2 hole after five Red Sox runs came across in the fourth, but the Bombers have done a good job all series of getting up off the mat. They struck back with a four-run sixth, batting around and knocking out starter John Lackey.
Lackey allowed a season-high seven runs in 5 2/3 innings, but the early cushion made Boston's lead insurmountable. The Red Sox have now scored nine runs in four straight games for the first time since 2007.
"No lead seems to be big enough," Boston manager John Farrell said. "It's a testament to the offensive capability of both clubs and the relentlessness at the plate."
Lyle Overbay, Robinson Cano and Ichiro Suzuki delivered run-scoring hits in the second, third and fourth innings, respectively, and Lackey's command deserted him in the sixth.
Brett Gardner's two-run double was the big hit in that inning, a frame that also featured run-scoring hits by Jeter and Alfonso Soriano. Mark Reynolds sparked hopes of a comeback with an eighth-inning, two-run double, but Junichi Tazawa and Craig Breslow slammed the door on the Yanks.
"We have to turn it around," Girardi said. "The bottom line is we have to pitch better, because we are scoring some runs. We have to figure out how to get them out."
Bryan Hoch is a reporter for MLB.com. Follow him on Twitter @bryanhoch and read his MLBlog, Bombers Beat. This story was not subject to the approval of Major League Baseball or its clubs.