After early outburst, Sox fend off Yanks' rally
After early outburst, Sox fend off Yanks' rally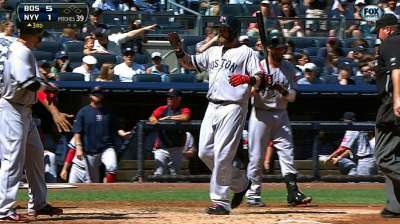 NEW YORK -- The bashing Boston Red Sox needed just about all of their hitting heroics to survive a Saturday slugfest at Yankee Stadium.
Though the Yankees mounted a late surge, the Sox held on for a 13-9 victory that put them in position to go for a four-game sweep of their rivals on Sunday.
Finally, John Lackey got some run support, reeling off just his second win since July 20.
And it came on the perfect occasion, as Lackey gave up a season-high seven runs over 5 2/3 innings, his shortest start since June 10.
"It was fun," said Lackey. "It was nice, for sure. The boys picked me up today. They swung the bats great. They've swung the bats great the whole series. It's fun to watch when they get on a roll like that."
The Boston bats have been nothing short of dominant of late, scoring 54 runs in the past four games.
It was the first time the Red Sox have scored 54 runs in a four-game span since the 1950 team scored 65.
The Sox also hit four more homers on Saturday, giving them 17 over four games for the first time since 2003.
"I can't imagine it happens very often," said outfielder Jonny Gomes. "I've won a bunch of games in a row, that's for sure. But the way we're doing it -- we're doing it in bulk right now, we really are. Outside of that, I don't think anything really stands out. Obviously [Mike] Napoli is off to a heck of a start in September, but when he's hitting grand slams and he's hitting homers, I don't think that's surprising anyone. He's on a roll, everyone is on a roll."
Considering the way things have gone for Lackey this season -- the Red Sox have been shut out six times in his starts -- this was a satisfying day for the whole team.
"We wanted to try to get a lead," said Napoli, who went deep twice. "We really haven't scored runs for Lackey, so it was nice to get a couple runs early for him and let him settle in. It was just a great game. We had a good team victory."
Lackey sure did enjoy it.
"[Craig] Breslow was joking with me a second ago that, 'Not even Lackey could stop our offense today.' That was a pretty good line," said Lackey.
As a team, the Sox are just as hot as their offense, reeling off five wins in a row, and 12 of their last 14.
With an 87-57 mark, manager John Farrell's team has a magic number of 12 for clinching the American League East.
"Every game is important at this point," said Lackey. "This one's not any more important than tomorrow's. We've got to stay after it. We've got a good group of guys that like playing."
Aside from the two bombs from Napoli, the Red Sox also got homers from Gomes and Xander Bogaerts. For top prospect Bogaerts, his first career long ball was a prodigious blast that soared over the Red Sox's bullpen in left-center.
"That was a big home run," said Gomes. "I wasn't doing that at 20, that's for sure. That's a big part of the ballpark. We just can't forget that in between the lines and the behind the scenes stuff, that the kid is 20 and is a shortstop. Not too many shortstops have that power. He had a couple of good defensive plays and just carrying himself like a pro. A pretty good day at Yankee Stadium for him."
The batting barrage began in earnest in the top of the second. David Ortiz led off with a double and Napoli unloaded for a two-run homer to left.
It was Napoli's third multihomer game this season, and second against the Yankees. His prolonged slump in July and August now seems like a distant memory.
"I mean, for me, I've been there before," said Napoli. "I've struggled through a season. I've just got to keep grinding through. This is what I did and finally found it. I knew I could be one at-bat away to finding that comfort zone to where I could drive the ball. Just going to stick to what I'm doing and hopefully it keeps going."
The person least surprised by Napoli's current hot streak is Lackey, his former teammate with the Angels.
"It's Nap's time of year," Lackey said. "He'll be ready to roll here in the next month or two."
The Red Sox went right back to work against Yankees lefty David Huff in the third. Bogaerts got the rally started with a leadoff double. Shane Victorino was hit by a pitch. Up stepped Gomes, and he hammered a three-run homer to left.
Robinson Cano made it a 5-2 game with an RBI single in the bottom of the third.
However, Huff continually let his team down. The Red Sox again came out swinging in a five-run fourth. Will Middlebrooks and Jackie Bradley Jr. started it with singles. Ryan Lavarnway belted an RBI double. Bogaerts got a run home on a fielder's choice. Victorino smashed an RBI double. Gomes ripped an RBI single, and David Ortiz's sacrifice fly to deep right made it a 10-3 game.
The two-run shot by Bogaerts in the fifth gave Boston a nine-run bulge.
"Good to get it out of the way as quick as possible, just like the first Major League hit," said Bogaerts. "It's good to always get those as quickly as possible."
It's a good thing the Sox kept adding on, because Lackey didn't have his best stuff. The Yankees roared back for a four spot in the sixth. The big hits were a two-run double by Brett Gardner and RBI singles from Derek Jeter and Alfonso Soriano.
The Yankees rallied for two more against Drake Britton in the eighth to make it a three-run game.
Napoli gave the Sox some breathing room in the ninth by hitting a one-out homer.
"We haven't pitched too well the last three games, but that can change quickly," said Yankees manager Joe Girardi.
Ian Browne is a reporter for MLB.com. Read his blog, Brownie Points, and follow him on Twitter @IanMBrowne. This story was not subject to the approval of Major League Baseball or its clubs.