Barnes ejected in sixth inning against A's
Barnes ejected in sixth inning against A's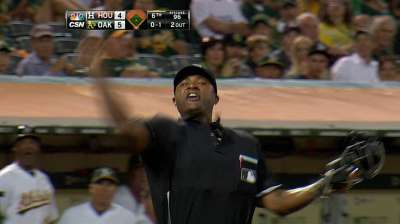 OAKLAND -- For the second time in as many games, someone in the Astros' dugout was ejected.
Brandon Barnes was tossed in the sixth inning Friday night with Houston trailing, 5-4, after arguing a call with home-plate umpire Alan Porter. The Astros' center fielder was hit by a pitch from A's right-hander A.J. Griffin but was denied first base after Porter ruled that Barnes didn't make enough of an effort to avoid the ball. Barnes, who leads Houston with seven hit-by-pitches this season, eventually struck out swinging.
"He told me I leaned over and I leaned into it," Barnes said. "That's a judgment call. So I went back to the dugout."
Barnes disputed the call at the plate and continued to express himself in the dugout and eventually was ejected. The ejection was Barnes' first of the season.
"I was at the bat rack and I was yelling at the bat rack, and I guess he heard something," he said. "I wasn't deliberately yelling at him. Again, it's a judgment call."
Astros manager Bo Porter was ejected in the eighth inning of Houston's 3-2 win on Thursday after arguing a tag play at home plate.
Jeff Kirshman is an associate reporter for MLB.com. This story was not subject to the approval of Major League Baseball or its clubs.