Wieters' two-run single in 10th wins it for O's
Wieters' two-run single in 10th wins it for O's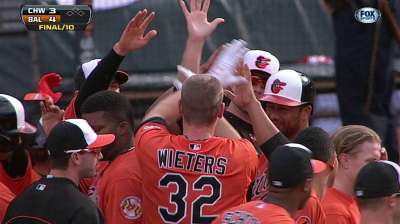 BALTIMORE -- The Orioles couldn't convert on a number of scoring chances on Saturday. Matt Wieters came up empty on one of them, striking out while pinch-hitting in the eighth with two on and one out.
Those wasted opportunities were a big reason this game went into extra innings. But when Wieters got a second chance to come through, he did it in a big way, lining a two-run single to right in the bottom of the 10th to give the Orioles a wild, 4-3 victory over the White Sox at Camden Yards.
The Orioles are one game behind the Rays -- who lost their third straight game, in Seattle -- for the second AL Wild Card spot. Baltimore has won three in a row, while the White Sox have dropped nine straight.
Not getting timely hits has been a big problem for the Orioles lately. It plagued them again on Saturday, as they finished just 2-for-18 with runners in scoring position -- leaving 12 on base. That's why their 13 hits produced only four runs.
"I thought we deserved it," Orioles manager Buck Showalter said. "It was frustrating, but we finally break through there at the end. Our guys did a lot of great things to set up those situations and we just couldn't get over that hump."
They finally did in the 10th. Pinch-hitter Conor Gillaspie gave Chicago (56-85) a 3-2 lead in the top of the inning with a solo homer off Tommy Hunter (4-3), but the Orioles rallied in the bottom half against Addison Reed (5-3).
Pinch-hitter Henry Urrutia started the rally with a one-out single. Chris Dickerson replaced him as a pinch-runner and made it to third with some aggressive baserunning when Nick Markakis blooped a single to left.
Markakis stole second during Nate McLouth's strikeout, which set the stage for Wieters, who lined a two-run single to right that gave the Orioles (76-65) a dramatic walk-off win.
"Keep getting opportunities, that's all you can ask for," Wieters said. "I swung through a slider on the [at-bat] before on a pitch that I felt I could have done something with. I just wanted to stay back and try to find some outfield grass."
It was Reed's sixth blown save this season, and he didn't make any excuses afterwards.
"I made a terrible pitch to Wieters right there on that last pitch," Reed said. "He made me pay for it."
The Orioles finally got a break in the one-run games they dominated last year. Baltimore improved to 16-25 in one-run contests after going 29-9 in them last season, a big reason the Orioles made the playoffs.
Baltimore needed just four batters to take a 1-0 lead in the first. Manny Machado hit a one-out single and scored from first when Chris Davis lined a two-out double to left-center. It was Davis' 39th double and 124th RBI of the year.
Chicago tied the game in the fourth when Alexei Ramirez hit a one-out double and scored on Paul Konerko's single off Orioles starter Wei-Yin Chen. Baltimore pitchers held the White Sox scoreless for 18 straight innings before that run. Chen gave up two runs on six hits in six innings -- striking out eight without a walk and getting a no-decision.
The White Sox took their first lead of the series when Dayan Viciedo golfed a low Chen fastball for a homer to dead center in the fifth. But the Orioles tied it when Brian Roberts led off their half of the fifth with a solo homer on the first pitch from Hector Santiago.
After that, the game remained deadlocked until the 10th. The Orioles had their chances, but they left a runner on third in the seventh plus two more on second and third in the eighth before finally breaking through.
"Gosh, if you give yourself enough chances with the lineup we have, you figure something is going to happen," Roberts said. "We don't have bad hitters on our team. You try to create opportunities. It took a lot today, but we finally got one."
Wieters talked afterwards of the importance of any victory this time of year. The Orioles are battling for a Wild Card spot for the second straight year and time is running short.
Baltimore will try to complete a sweep of this four-game series on Sunday and, with just 21 games remaining, the Orioles need wins any way they can get them -- even if they're hard to get and take awhile.
"We have to keep winning," Wieters said. "We have to win tomorrow and come here with that mindset. It's go time now. There's no more get 'em later. It's go now and make our run."
Jeff Seidel is a contributor to MLB.com. This story was not subject to the approval of Major League Baseball or its clubs.