White Sox can't hold lead after Gillaspie's home run
White Sox can't hold lead after Gillaspie's home run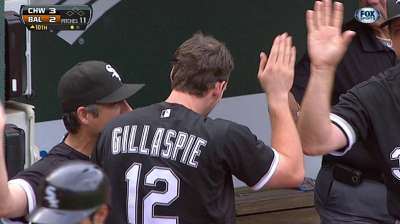 BALTIMORE -- In a season full of gut-wrenching losses, the White Sox setback on Saturday might have stung the worst.
After Conor Gillaspie gave Chicago the lead with a pinch-hit solo home run in the 10th, Matt Wieters responded for the Orioles with a walk-off, two-run single off Addison Reed, sending the White Sox to their ninth straight loss, 4-3, at Camden Yards.
"I'm sure you've heard it before, I feel like we see something new every game," Reed said. "Things just aren't going our way, and today it was a bad pitch by me. It happens, it's baseball. Things can happen like that, and all we can do is come back tomorrow and do everything we can to get the win."
Chicago managed to snap a streak of 18 scoreless innings on an RBI single by Paul Konerko in the fourth. The White Sox fell to 24-51 (.320) on the road, the lowest winning percentage in the Majors.
White Sox starter Hector Santiago allowed two runs on seven hits and two walks with four strikeouts in five innings. He also battled out of several jams, as the Orioles were just 1-for-10 with runners in scoring position against him. They finished 2-for-18 in that department and left 12 runners on base.
Dayan Viciedo went 2-for-3 and his fifth-inning home run was his 12th homer of the season, and Konerko was 2-for-4.
Orioles starter Wei-Yin Chen started strong, but he tired as the game wore on. He allowed two runs on six hits and no walks with eight strikeouts in six innings.
Danny Valencia went 3-for-4 for the Orioles, while Brian Roberts homered for the second time in three games.
"Any time you lose late, it hurts," White Sox manager Robin Ventura said. "You just battle back and keep going."
With the game tied in the eighth, Valencia led off with a double and took third when Josh Phegley's pickoff throw bounced into the center field. Lefty David Purcey forced a soft grounder to second by Nate McLouth, and even though Leury Garcia bobbled the ball for an error, Valencia stayed at third. Nate Jones entered and struck out Wieters, and then got Roberts to ground out to end the threat.
Gillaspie made them pay two innings later, when he launched an 84-mph curve ball from Tommy Hunter over the right-field scoreboard and onto the flag court. It was his 12th home run of the season.
"It is what it is," Gillaspie said. "Just a couple of bad breaks there in the last inning. Couple of balls not hit particularly hard found holes. It's tough. But [all of the losses] have all been pretty hard."
The Orioles put runners on first and third off Reed in the bottom half of the 10th on singles by pinch-hitter Henry Urrutia and Nick Markakis. Reed struck out McLouth, but then allowed a sharp single to right by Wieters.
"Finally, a big hit." Wieters said. "We had some chances early in the game, but they made some pitches to get out of it. You always have a shot until the last out. We knew we were still in it all the way until the end. It was a big win for us."
The Orioles took a 1-0 lead on a two-out double by Chris Davis in the first. Konerko tied it in the fourth with a long single to center that scored Alexei Ramirez.
"I guess it seems like that kind of year, just always goes the other team's way for some reason," Santiago said. "Definitely a tough one right there. We get a pinch-hit home run from Conor right there and then we kind of felt like we were smooth sailing from there."
Todd Karpovich is a contributor to MLB.com. This story was not subject to the approval of Major League Baseball or its clubs.