Pirates fall as Cards gain ground in NL Central
Pirates fall as Cards gain ground in NL Central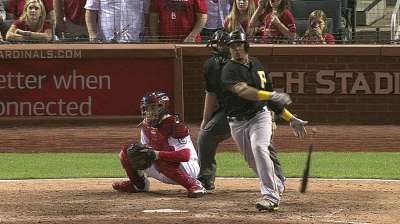 ST. LOUIS -- Still searching for win No. 82. Still sitting in first place.
One of those statuses will no longer be quo for the Pirates following Saturday night's second game of a three-game series with the Cardinals, who got in the first lick, and a big one, with a 12-8 win Friday night that inched them within a half-game of the Bucs.
So either the Pirates can stop looking for No. 82 on Saturday night -- or they will be looking up at the Cardinals from second place in the National League Central.
The Bucs will be returning to Busch Stadium in a far better mood and with more fire than they would have had Friday night's game been stopped for any reason after seven, when they trailed 12-1.
Seven runs in the last two innings was a feel-good nightcap. Two innings after holding an 11-run lead, the Cardinals actually had to call on their closer, Edward Mujica, to end the game for a save.
The late lightning gave even A.J. Burnett a lift at the end of a night during which he had plenty to fret over. For one, he had been chased in three innings. For another, he was enough concerned about his right little finger smashed by a third-inning comebacker to say, "We'll see how it feels tomorrow and go from there."
"The one positive to take from the game," Burnett said, "is what they did to the final out. We're sitting in here, proud as can be of these guys. They kept going, didn't give up -- made a helluva game out of it."
One who did not keep going was Andrew McCutchen who, given the lopsided score at the time, was replaced by a pinch-hitter in the top of the eighth. When the Bucs rallied again in the ninth, Felix Pie was in McCutchen's spot on-deck as Josh Harrison -- who had already homered -- battled Mujica with two men on.
Harrison flied out to end the game. Rather than rue McCutchen's removal, manager Clint Hurdle was savoring Pie's possible at-bat in the crazy finish.
"These guys threw seven runs up there. Those are the decisions you make," Hurdle said. "To think Andrew was the magic elixir? … I wish Josh had gotten a hit. I actually looked at it and thought, 'You know what? Pie is due to hit a homer.'"
Ultimately, this was an extra-special victory for the Cards, who will lose the season series to Pittsburgh (trailing 7-10 with two games to go) but have outscored the Bucs 61-25 in their wins. Of the Cardinals' 16 hits, nine were for extra bases.
One of those was a three-run home run by Yadier Molina that capped the seven-run seventh a few pitches after he'd been dusted by Bryan Morris, heightening the drama for an at-bat in a game that was already one-sided.
Both Morris and Hurdle questioned the judgment of plate umpire Tony Randazzo -- whose warning to both benches resulted in the subsequent ejection of St. Louis' John Axford for hitting pinch-hitter Tony Sanchez with a pitch in the eighth.
The pitch that had knocked Molina into the dirt had been a breaking ball, a slider.
"That's why I was so agitated to get a warning," Morris said.
"In my 39 years of baseball," Hurdle said, "I don't know if a pitcher has ever gone out there with the intent to hit someone with a breaking ball. It doesn't happen. It didn't make a lot of sense."
There was no pennant-race pressure in the series opener in front of 40,608 in Busch Stadium, not after the Redbirds jumped Burnett for two runs in the first and added three more in the third for a 5-0 lead that looked untouchable in the hands of Joe Kelly.
"I haven't made pitches here," said Burnett, who had been 3-0 against the Cardinals this season but has allowed them 19 hits and 12 runs in 13 1/3 innings in St. Louis. "But I will. It was a matter of inches on breaking balls. I was missing middle. Finger is pointed at me, not the ballpark."
Kelly beat the Bucs for his second straight start -- he'd registered St. Louis' lone win in last weekend's set in PNC Park -- and for the third time overall. He has gone six innings on each occasion, in this latest effort allowing only one run by doggedly working out of repeated trouble brought on by eight hits and three walks.
"We had opportunities pretty much all night. We pushed him, and were one hit away," Hurdle bemoaned, "just couldn't get the big hit. He made pitches and kept the ball down. He's very competitive out there. We got him to bend, but couldn't break him."
"It's just making pitches when I had to," agreed Kelly. "It's tough when [you let runners on], but you just got to go out there and you gotta keep pitching your own game, even if they are swigging the bat early. It was just a big battle and just had to grind my butt off out there."
Burnett, meanwhile, brought up the rear of a two-ace accident at the top of the Pirates' rotation. In back-to-back games, Francisco Liriano, Wednesday in Milwaukee, and he both lasted only three innings and gave up a dozen runs.
Of the nine times the two veterans have followed each other in the rotation, this was the fourth instance of the Bucs losing both of their starts.
Both teams staged first-inning threats, but only the Cardinals converted.
In the top, Neil Walker and McCutchen singled with one away, and third baseman David Freese's fielding error on Marlon Byrd's two-out grounder loaded the bases. But Pedro Alvarez bounced meekly to second.
In the bottom, Carlos Beltran's RBI single cashed in Matt Carpenter's walk and Jon Jay's single. When the ball lined to center by Beltran hopped past McCutchen, Jay also scored on the error to make it 2-0.
A barrage of extra-base hits grew St. Louis' lead in the third: Carpenter tripled, Jay doubled, Matt Holliday doubled, Beltran doubled.
The ninth baserunner for the Pirates -- in only five innings -- finally scored. That was McCutchen, who drew his second walk of the game with one away, advanced on Justin Morneau's grounder and stopped at third on Byrd's single before coming in on another single by Alvarez.
Harrison hit a two-run homer during Pittsburgh's four-run eighth -- his second and the team's fifth pinch-hit homer of the season -- and Jose Tabata got the Pirates to within four runs with a two-run double during a three-run ninth.
Tom Singer is a reporter for MLB.com and writes an MLBlog Change for a Nickel. He can also be found on Twitter @Tom_Singer. This story was not subject to the approval of Major League Baseball or its clubs.