Cards top Bucs, gain in NL Central standings
Cards top Bucs, gain in NL Central standings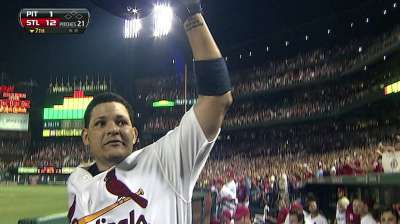 ST. LOUIS -- Once the Cardinals' offense got rolling, it was near impossible for Pittsburgh to stop it.
The Cardinals' hot bats steamrolled the Pirates with a 12-8 victory Friday, building a modest 5-1 lead behind another solid outing by Joe Kelly and punctuating it with an explosive seven-run seventh inning.
The win, which came in front of 40,608 fans at Busch Stadium, brought the Cardinals to within a half-game of the first-place Bucs in the National League Central. Despite dropping two consecutive series to divisional opponents Cincinnati and Pittsburgh, the Cardinals remain in the thick of a tight NL Central race, as the Reds trail just two games back with a win over the Dodgers on Friday.
"This is what you play for, this is why you grind out a whole season, so that when you get into this part of the season you have a chance to play for a postseason and play for a division title," second baseman Matt Carpenter said. "All those exciting things that every Major League team wants to do and only a select few get the opportunity to do it. So we're in a really good spot and hopefully we can continue to take advantage of it."
Three of the four times the leadoff batter reached, the Cards went on to score multiple runs, plating two in the first with a walk and a pair of singles before opening the third with four straight extra-base hits. They delivered the finishing blow with nine consecutive hits without an out in the seventh, including a three-run blast from Yadier Molina and three more extra-base hits.
The Pirates went through three pitchers in the seventh before Vin Mazzaro finally recorded the first out. The nine straight hits were a season high for the Majors in 2013 and fell three shy of the club record of 12, set in 1920.
"Guys were swinging it, no question about it," manager Mike Matheny said. "[We] put together some real good at-bats and fought with guys in scoring position. We had things moving on the bases all night."
Kelly, the Cardinals' winningest pitcher of the second half, cruised to his fifth straight victory. He limited the Bucs to one run on eight hits and three walks while fanning four over six innings. Kelly is 8-0 with a 2.74 ERA since joining the rotation July 6, and the Cards are 10-1 with him on the mound in that span.
"It's just making pitches when I had to," Kelly said. "These guys are a good ballclub, especially seeing me five days go. I feel like they just saw me yesterday."
Kelly pitched around baserunners all night, facing the minimum just once thanks to a double play that erased a leadoff walk. He stranded 10 runners over six frames, effectively stalling the Pirates' potent offense. He came up big with inning-ending strikeouts in the fifth and sixth as the Bucs threatened with runners on.
"That's something we didn't give him a lot of opportunity to do early in the year," Matheny said. "When he got in trouble, we would normally try and get him out. ... He's earned that opportunity to work himself through it and he continues to be able to get big outs when he needs to."
"We had opportunities pretty much all night," Pirates manager Clint Hurdle said. "We pushed [Kelly], and were one hit away. Just couldn't get the big hit. He made pitches and kept the ball down. He's very competitive out there. We got him to bend, but couldn't break him."
The Cardinals chased Pittsburgh starter A.J. Burnett from the game after three innings with five earned runs on six hits and a walk. Burnett was 3-0 with a 2.59 ERA in five starts versus St. Louis this season, but couldn't manage the same success Friday.
"I think we could all tell early on his command really wasn't what we're used to seeing from him," Carpenter said. "He walked me to lead off the game and then Jon [Jay] was able to get a base hit and we got first and third, really before he could even really get into a groove."
Lefty Kevin Siegrist extended his scoreless streak to 17 1/3 innings with two strikeouts in a perfect seventh inning. John Axford started the eighth but gave up a leadoff double and was ejected, along with Matheny, by home-plate umpire Tony Randazzo for plunking Tony Sanchez. The teams had been warned after Molina was nearly hit in the seventh.
Jake Westbrook stepped in for Axford, but struggled in his second relief appearance of the season, serving up a two-run homer to Josh Harrison in the eighth and a bases-loaded walk to Clint Barmes in the ninth. Jose Tabata drove in two more runs with a double against rookie Carlos Martinez, forcing closer Edward Mujica into the game. Mujica retired Harrison on two pitches for his 36th save.
Amid the string of nine hits in the seventh, Pete Kozma snapped an 0-for-32 slump spanning 16 games and Carpenter tied Albert Pujols' single-season record for hits at Busch Stadium III with 98. Carpenter hit a triple and a double with three runs, an RBI and a walk.
"He's continuing to do some pretty impressive things with the doubles he's hitting, the runs scored," Matheny said, when asked if Carpenter is garnering NL MVP Award consideration. "The defense he's playing too shouldn't be overlooked. The average, the on-base percentage. There's a lot of pretty impressive categories that he's done very well, and I think the league is taking notice."
Chad Thornburg is an associate reporter for MLB.com. This story was not subject to the approval of Major League Baseball or its clubs.