Jaso 'helpless' in recovery from concussion
Jaso 'helpless' in recovery from concussion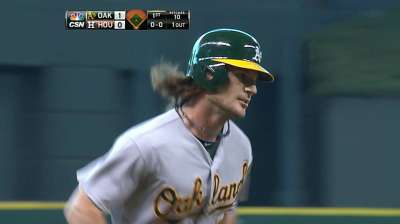 OAKLAND -- The A's have three healthy and capable catchers on their roster, sometimes making it easy to forget there's a fourth who's wanting to join the party.
It's been 44 days since John Jaso -- recovering from a concussion -- last played in a game, and time's running out for him to appear in another before season's end.
"I'm wondering that," Jaso said Friday. "We'll just have to see how it goes. I can't control anything. All I can do is lie about it or tell the truth, and I'm just telling the truth and letting the professionals decide."
The professionals, notably leading concussion authority Dr. Michael Collins, told Jaso to cut back on baseball activity this week, after he began having symptoms -- like dry heaving -- again while doing batting cage work. So he's limited to stationary workouts for the time being, no closer to joining the team for on-field work and batting practice than he was weeks ago.
The A's have played 39 games since Jaso was placed on the disabled list. The lengthy recovery time is substantial, but often too typical. Red Sox catcher David Ross recently returned to Boston's roster after missing 54 games with a concussion.
"Everyday life is pretty simple," said Jaso, who was the A's starting catcher on Opening Day, "but as soon as I start doing up-and-down movements, stuff outside, even just the jolt your body gets from swinging the bat, it messes me up.
"I've had concussions before and it hasn't taken this long. I'm not the first guy this has happened to, though, and I understand that. Still, it's such a helpless feeling and you don't really want it. You just come to a point you realize it is what it is."
Jaso, who said he wakes up to buzzing in his ear each morning, was batting .271 with a team-leading .387 on-base percentage following his last game in Houston on July 24. His ability to get on base -- he had an OBP of .415 in his last 16 games -- has been missed on a team that often struggles without the long ball.
"Not being able to contribute, it's the worst," Jaso said. "But worrying doesn't do anything for you. That's the way I live my life."
Jane Lee is a reporter for MLB.com. Read her blog, Major Lee-ague, and follow her on Twitter @JaneMLB. This story was not subject to the approval of Major League Baseball or its clubs.