Castro, Dominguez back in starting lineup
Castro, Dominguez back in starting lineup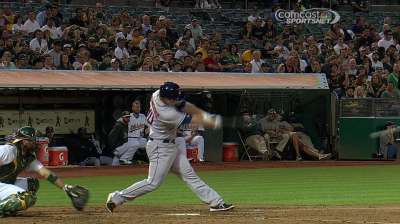 OAKLAND -- Jason Castro and Matt Dominguez returned to the Astros' starting lineup on Friday night against the A's after recovering from ailments that had kept them sidelined since Monday.
Castro, Houston's All-Star catcher who sprained his right knee Monday, batted cleanup as the team's designated hitter as he continues to recover a cyst he got when he fouled a ball off his knee. Dominguez was fifth in Friday's lineup and back at third base after missing time with a sinus infection.
"I was pretty disappointed to have to sit out the past few days, but I'm thankful it was only a few days and not more," said Castro, who missed the entire 2011 season following surgery to repair the anterior cruciate ligament in his right knee. "Everyone's goal right now is to finish out as strong as possible and go into the offseason with as much confidence as we can, so we can build on that and hit the ground running come Spring Training next year."
Dominguez first began feeling dizziness Monday and was given antibiotics to help relieve his symptoms. He said he's not at 100 percent, but he's well enough to play.
It will take a few more days before Castro can return to catching. The first hurdle, he said, was to be able to hit in some capacity for the team. He took batting practice Thursday without complications but felt tentative about running on the injury, which he said wasn't a concern Friday. Squatting and catching activities are soon to follow.
"I'm pretty happy with the way everything has gone on," Castro said. "I'm feeling good and hopefully it'll continue to keep improving and get back to 100 percent."
Jeff Kirshman is an associate reporter for MLB.com. This story was not subject to the approval of Major League Baseball or its clubs.