Backed by five-spot, resurgent Dickey holds off Twins
Backed by five-spot, resurgent Dickey holds off Twins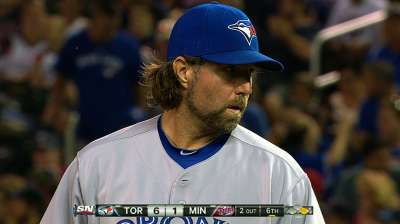 MINNEAPOLIS -- R.A. Dickey's resurgence during the second half of the season continued with another strong outing on the road Friday night in Minnesota.
Toronto's No. 1 starter would likely prefer to forget his first two and a half months in a Blue Jays uniform, but since then, he has been everything the club could have realistically expected.
Dickey surpassed six innings for a 15th consecutive outing and allowed just three runs, while the Blue Jays' offense erupted in the third en route to a 6-5 victory over the Twins at Target Field.
"The six or more innings, three runs or less, is something I've always tried to do," Dickey said. "I haven't done it great this year, but I have done it adequately.
"You set some goals for yourself. Hopefully, you can get above 200 innings, you can win close to 15 games -- those are all good benchmarks. But at this point, you still have to be careful not to get too far ahead of yourself and reduce it to a moment-by-moment scenario, so that I can commit to every pitch."
The 15 wins and 200-inning plateau are both within Dickey's grasp with just a few weeks remaining in the season. Dickey's already at 197 innings and should surpass 200 next week in Toronto, while he needs to win three of his final four starts to reach 15.
The personal accolades won't mean a whole lot in what can only be described as a lost season for the Blue Jays, but it's still something to build on for next year. For Dickey, the positives aren't difficult to find after his rather dramatic turnaround this season.
Dickey had a 5.15 ERA on June 21, but since then, he has posted a 6-4 record with a very respectable 3.42 ERA. The past eight outings have been even better, with a 4-1 mark and 2.88 ERA. The numbers have continued to improve with each start, and at least to date, the workload has yet to catch up with the veteran knuckleballer.
"I feel good. I feel like I've gotten stronger as the year has gone on," said Dickey, who allowed three runs on seven hits. "I feel like I've been able to carry my workload just fine. I have four more starts left, so hopefully I'll be able to log a lot more innings, even this year."
Dickey received all the run support he would need before the end of the third inning. Toronto scored one in the first before really blowing things open in the third on a night when everybody in the starting nine except Adam Lind reached base at least once.
Anthony Gose got the third-inning rally started with a double to center field, before Josh Thole and Jose Reyes came through with a pair of singles to account for Toronto's second run of the night.
The rally then appeared to be in danger, until Lawrie came through with a two-out single to center which scored two more. Sierra then delivered with a double to the gap in right-center field for the fourth and fifth runs.
Pelfrey allowed six runs -- five earned -- on six hits and two walks while striking out seven.
"I just didn't make enough quality pitches," said Pelfrey. "I made some mistakes and they hit it. It was kind of a wasted day. I thought my stuff was good, but I didn't make enough quality pitches in the third inning and they kicked my butt."
Minnesota managed to make things interesting by cutting the Blue Jays' lead to two in the eighth and then rallying in the ninth against right-hander Casey Janssen. Toronto's closer surrendered a leadoff homer to Josmil Pinto before Alex Presley reached base on an error by Lind to put the tying run on first.
It wasn't until Janssen struck out Ryan Doumit and J.P. Arencibia threw out Presley on a stolen-base attempt at second that the Blue Jays could once again take a deep sigh of relief. It wasn't pretty in the end, but still enough for the Blue Jays to secure a sixth win in their past eight games.
"Good ballgame, it really was," Blue Jays manager John Gibbons said. "We had that big inning when we scored those five, and then we went silent after that, so it was one of those games where you get the feeling late that we're hanging on, because we can't get anything going offensively."
Toronto now has an opportunity to win its fourth consecutive series for the first time this season with a victory against Minnesota on either Saturday night or Sunday afternoon.
Gregor Chisholm is a reporter for MLB.com. Read his blog, North of the Border, and follow him on Twitter @gregorMLB. This story was not subject to the approval of Major League Baseball or its clubs.