Shorthanded Dodgers fall in opener vs. Reds
Shorthanded Dodgers fall in opener vs. Reds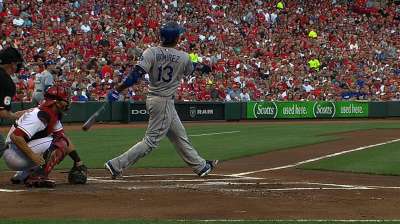 CINCINNATI -- On a night when Chris Capuano exited due to injury after just 1 2/3 innings and Reds slugger Joey Votto snapped out of an extended funk, the Dodgers battled. But it wasn't enough, as Votto's go-ahead two-run homer in the fifth proved to be the decisive blow in the Dodgers' 3-2 loss to Cincinnati.
Hanley Ramirez got the Dodgers going with a mammoth two-run homer in the first, but he and his teammates would combine for just three hits the rest of the way. With the loss, the Dodgers have dropped two in a row for the first time since Aug. 24-25.
"We got out of a few jams, [but] we scored two in the first and kind of just kept it there," manager Don Mattingly said. "We didn't do much to win."
Thanks to Ramirez's homer, the Dodgers appeared to be in good shape early on with Capuano retiring five of the first six batters he faced. However, after striking out Todd Frazier on his 32nd pitch of the game, the left-hander exited with a mild left groin strain.
"We won't know if he'll make his next start or not," Mattingly said. "We will know more tomorrow. Chris was throwing the ball good."
Right-hander Peter Moylan replaced Capuano and picked up the final out of the second, setting up Stephen Fife, who started the third.
Fife gave up one run in the fourth, when Votto scored on a Ryan Ludwick double play, and was replaced by J.P. Howell in the fifth after walking Reds starter Mike Leake to open the inning. Three batters later, Howell surrendered what turned out to be the decisive home run.
"It was a sinker down and in," Howell said. "He proved to me just how strong he is. He stayed inside the ball and kind of bench pressed it. That's hard to do. I knew it was trouble by the sound off the bat."
Votto entered Friday hitless in his last 13 at-bats, tying a season high. He came into the series opener just 4-for-37 since Aug. 26 and batting .178 (16-for-90) since he put together an eight-game hit streak at the end of July and early August.
It was just a matter of time before the All-Star first baseman broke out, though, and the Dodgers drew the short straw, as Votto reached base in all four of his plate appearances, drawing a walk in the first inning and delivering a single and scoring in the fourth. He also walked in the eighth.
"He came through at the right time," Reds manager Dusty Baker said. "That's what the big boys do. You can't hold a good man down too long, especially such a talented man and a determined man."
The Reds would never relinquish their lead, thanks in large part to Leake, who allowed five hits while striking out five.
Leake retired 20 of the final 23 batters he faced, including 13 in a row at one point. He was finally chased from the game by a two-out single from pinch-hitter Michael Young in the eighth after throwing 62 of his 98 pitches for strikes while not surrendering a walk.
The Dodgers avoided disaster in the eighth, when left-hander Paco Rodriguez replaced righty Chris Withrow -- who fanned five over two perfect frames -- and gave up a single and two walks in consecutive at-bats to load the bases with no outs. Brian Wilson managed to escape the inning without a run scoring, though, as he caught a line drive off the bat of Ludwick and turned it into a double play at third before striking out Frazier for the final out.
However, Reds closer Aroldis Chapman came on in the ninth, pitching for the fourth straight day for the first time in his career, and promptly struck out the heart of the Dodgers' order in succession for his 35th save.
Although the Dodgers maintain a comfortable lead in the National League West with less than a month to go in the regular season, Mattingly wasn't happy to see an opportunity for a win against a good team slip through their fingers.
"I think this is a big series," Mattingly said. "This is the time of year when it's tough to win games. When we were in that great streak, we won these kind of games. I am interested to see how we play this series. We won three out of four from them in Los Angeles but any one of those games could have gone either way."
Jeremy Warnemuende is a reporter for MLB.com. This story was not subject to the approval of Major League Baseball or its clubs.