Rays set rotation for Sox series, bump back Archer
Rays set rotation for Sox series, bump back Archer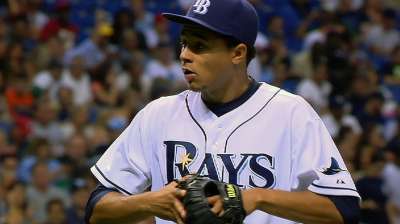 SEATTLE -- Joe Maddon announced his pitching rotation for next week's Boston series, and, as expected, Chris Archer is getting moved back a day to where he will start the first game of the Minnesota series next Friday.
David Price will start Tuesday night in the opening game of the three-game series with the Red sox at Tropicana Field. He will be followed by Alex Cobb and Jeremy Hellickson, who also will be pitching on an extra day's rest.
"Just an extra day [for Archer] and then the other part [was to] have David kick it off and, like we've been talking, Cobb has been pitching well," Maddon said. "I like the idea of Helly pitching with extra rest, this last start and this next one also. And then to rest Archer a little more also. So everything is fulfilled."
Archer has pitched 156 innings this year (106 with the Rays and 50 with Triple-A Durham). Last season he pitched 157 1/3, the most innings of his career, so the Rays are taking a proactive approach to Archer proceeding.
"In [Archer's] start the other day, his stuff wasn't horrible," Maddon said. "We just thought in advance that we wanted to try and look for that moment. Hellickson coming back and doing as well as he did permits this. And like I said, Hellickson pitching this next time through with extra rest is attractive. I think it fulfills all the different things that we wanted to do.
"For right now, we're pretty much going in small clumps and see how that all works out, re-evaluate it after that."
Bill Chastain is a reporter for MLB.com. This story was not subject to the approval of Major League Baseball or its clubs.