Longoria explains story behind 'Team Wil' shirts
Longoria explains story behind 'Team Wil' shirts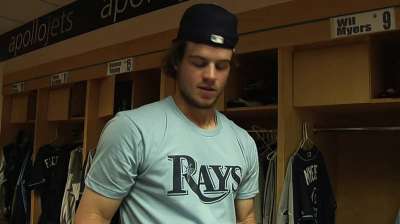 SEATTLE -- Evan Longoria revealed to reporters on Friday the genesis of the "Team Wil" t-shirts he had made up this week in honor of Wil Myers.
"The reason was because he never has any Rays stuff on, so I figured if I got him a shirt with Rays on the front and his name on the back, then maybe he'd be more inclined to wear it," Longoria said.
Making the new clubhouse fashion all the more appealing was the fact that Longoria handed out the shirts prior to Thursday night's game.
"And it was actually very fitting that they were finished the day after he had that huge day in Anaheim, when he hit two home runs," Longoria said. "So it was pretty fun. ... It was solely to get him to wear a shirt with the Rays' logo on it."
Longoria only had 20 of the shirts made up, which meant that some players did not get one. He explained his rationale for the number.
"I had to pay for them out of pocket, so I figured there would only be about 20 guys who would care about wearing them," Longoria said. "Some of the guys, we've had a lot of team shirts made and I see a lot of guys who don't wear them. So I just figured I knew the guys who would want to wear them.
"I had already planned on getting them before we went on the road trip. I had texted my buddy to get them in process. He lives in LA, that was kind of the first time he got them."
Bill Chastain is a reporter for MLB.com. This story was not subject to the approval of Major League Baseball or its clubs.