According to Maddon, talented Zobrist is underrated
According to Maddon, talented Zobrist is underrated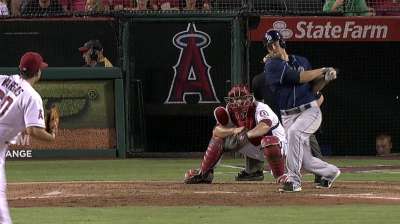 SEATTLE -- Ben Zobrist entered Friday night's contest in Seattle batting .307 since the All-Star Break with a .380 on-base percentage.
Zobrist is now two walks away from tying Carlos Pena for most in team history (460) and his next home run will be his 104th, which would tie him with Carl Crawford for fifth most in team history. In addition, Zobrist has played an immaculate second base, which prompted a question to Joe Maddon about whether Zobrist is one of the most underrated players in baseball. The Rays manager agreed with that assumption, adding: "I also believe if you ask any manager in the league, they'd be like, 'This is a guy I want on my team.'"
Maddon said it might be possible to underrate Zobrist's talents if you only saw him play occasionally.
"To be with him daily, you get to see it all and all the little things that he does," Maddon said. "And beyond that, all the team things that he does. This guy is all about winning. That's it, that's it. He doesn't care about his batting average. He does only in the sense that if he's not hitting well, that means he's not helping the team. He's all about team and he's really unique and I don't even know where we would be without him."
Bill Chastain is a reporter for MLB.com. This story was not subject to the approval of Major League Baseball or its clubs.