Rangers seek RISP rewards
Rangers seek RISP rewards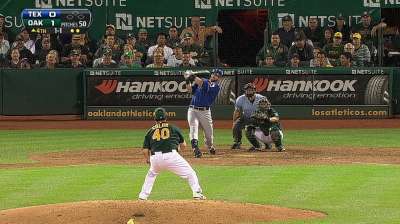 ANAHEIM -- As complex as the game of baseball is, there are some very simple truths.
If you aren't driving in runs it is hard to win, and the Rangers have had trouble driving in runs recently.
Over the past six games, the Rangers are 2-4 and hitting just .133 (6-for-45) with runners in scoring position.
"You're going to go through your dry spells, and you're going to go through your times where it seems like every time we get an opportunity, we get it done," Rangers first baseman Mitch Moreland said.
The Rangers were 3-for-7 with runners in scoring position in Wednesday's 11-4 loss in Oakland and have hit .250 in such situations as a team this season.
While the results have not been there lately, the Rangers are not overly concerned and know the clutch hits will start to come.
"It's just the way the game goes," Moreland said. "You win some, you lose some and all those situations go into sub categories of those two. When you're driving in runs, you're going to win more games, and that's just the way it goes, but we've done pretty well. We're in a good spot right now, right where we want to be. We just have to finish strong."
William Boor is an associate reporter for MLB.com. This story was not subject to the approval of Major League Baseball or its clubs.