Cards to use off-day to give starters extra rest
Cards to use off-day to give starters extra rest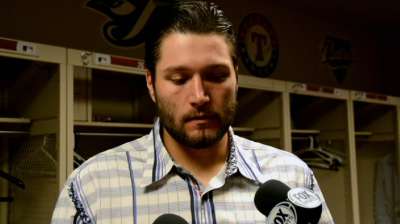 ST. LOUIS -- The Cardinals will use Monday's off-day as an opportunity to give each starter an extra day of rest, rather than using the day to shake up the rotation or skip slumping right-hander Lance Lynn.
"Everybody is feeling September right now, and so most likely we're going to continue in that route with giving them an extra day and staying on track," manager Mike Matheny said. "We still have time to change that, but right now, that's the way it appears."
Although general manager John Mozeliak admitted the club has discussed taking Lynn out of the rotation, the righty remains on schedule for at least one more start -- Wednesday versus Milwaukee. Lynn hasn't held an opponent to fewer than four earned runs in his last five outings, raising his ERA from 3.79 to 4.37 in that span.
"My understanding is they want to give him another shot," Mozeliak said. "So at this point, listen to our baseball people and see where it goes. But the definition of insanity is repeating the same thing over and over again and hoping for a different outcome. So at some point, something has to give."
If the Cardinals hope to keep pace with the Pirates and Reds in the National League Central and make a run deep into October, they will have to sort out their starting-pitching woes. Since the beginning of August, St. Louis starters have made it through the seventh inning just seven times, as the three remaining Opening Day starters -- Adam Wainwright, Shelby Miller and Lynn --- have each lost some of the sharpness that helped the Cardinals to baseball's best record in the season's early months.
In addition to Lynn's troubles, Miller has given up three or more earned runs in three of his last five starts and Wainwright is coming off back-to-back clunkers against the Reds, both among the worst starts in his career.
"Our success and our struggles have been very closely tied with the quality of starting [pitching] we're getting," Matheny said. "We understood that in the beginning and we understand that now and are trying to work out the kinks."
Despite the recent issues, Matheny believes the Cardinals' hurlers are never far from turning the corner.
"It could be the calm before the storm," Matheny said. "You can't ignore what this group has done from a starting-pitching perspective and just say, 'Well, that was then and this is now.' It's the same group of guys. That potential is there and the ability is there and the desire is there. It's just a matter of getting back to where we know it could be."
Chad Thornburg is an associate reporter for MLB.com. This story was not subject to the approval of Major League Baseball or its clubs.