Westbrook activated, placed in Cardinals' bullpen
Westbrook activated, placed in Cardinals' bullpen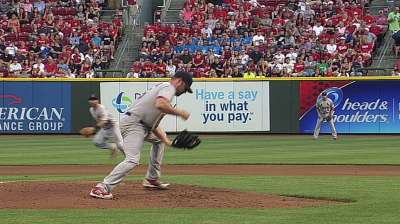 ST. LOUIS -- The Cardinals activated Jake Westbrook from the 15-day disabled list Friday, but the 35-year-old veteran returned to the club in a new role as he transitions into the bullpen for the near future.
Westbrook entered Friday's 12-8 win over the Pirates in the eighth and struggled in his first appearance since spending time on the DL with lower back tightness. He served up a two-run homer to Pittsburgh's Josh Harrison in the eighth, and gave up another run in the ninth with a bases-loaded walk.
"I know he wasn't as sharp as he wanted to be, but it was an opportunity to get him out see what we've got to work with and let some of the other guys have a night," manager Mike Matheny said.
Matheny said Friday afternoon the right-hander isn't dealing with any glaring issues pertaining to the lower back tightness that landed him on the DL, although Westbrook will continue to take precautionary measures because of it.
"He feels good. Hopefully [it's] just something that's behind him," Matheny said. "Any of these guys that have injuries, they're always doing something to make sure that they don't go back to where they were. You change your program a little bit to adapt it, to try to be more of a preventative maintenance than anything else."
For Westbrook, a late-season shift to the 'pen isn't unfamiliar territory. He was delegated to a relief role for the postseason in 2011, and tossed a scoreless inning in Game 6 of the World Series, earning the win on David Freese's walk-off homer.
Westbrook entered Friday 4-6 with a 4.70 ERA in 41 career relief appearances (90 innings), his last coming Aug. 7 versus the Dodgers when starter Shelby Miller exited early after taking a line drive off his elbow. Prior to that, his last regular-season relief outing was in April 2004 with the Indians.
Neither Matheny nor general manager John Mozeliak ruled out Westbrook returning to the rotation this month or in October.
"He's going to be able to get long toss [in] and do some flat ground sides as often as he can," Matheny said. "As far as being able to be stretched out, that does become a challenge, especially this time of the year when we don't have other teams playing. [But] by this time of the year, most of them have a lot of stamina built up. They'll just try and stay sharp."
Chad Thornburg is an associate reporter for MLB.com. This story was not subject to the approval of Major League Baseball or its clubs.