Posey likely out a couple more days with broken finger
Posey likely out a couple more days with broken finger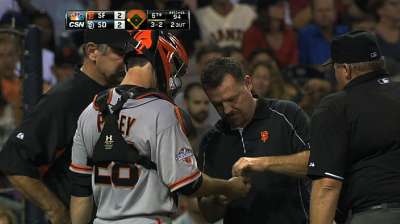 SAN FRANCISCO -- Although Buster Posey reported Friday that the condition of his fractured right ring finger had improved, Giants manager Bruce Bochy said that his two-time All-Star catcher likely will rest for at least two more days "to get this thing to calm down."
Posey, who was injured on Tuesday in San Diego, took swings off a tee and was scheduled to play light catch. He wore a bandage and a small protective apparatus on his afflicted finger.
"It feels better today," Posey said. "Some of the swelling has gone down."
Posey felt certain that he must graduate from hitting off a tee to taking batting practice before he'll be cleared to play.
Bochy said that in Posey's absence, Hector Sanchez will remain San Francisco's primary catcher, though rookie Johnny Monell also is available. Bochy indicated that the 23-year-old Sanchez still has much to learn, saying, "The kid needs to play. ... This playing time can serve him well."
Bochy said that while Posey is sidelined, third baseman Pablo Sandoval, who caught 176 games in the Minor Leagues and 14 in the Majors, will serve as the team's emergency catcher.
Chris Haft is a reporter for MLB.com. This story was not subject to the approval of Major League Baseball or its clubs.