Davis' 48th among HRs Feldman rides to shutout win
Davis' 48th among HRs Feldman rides to shutout win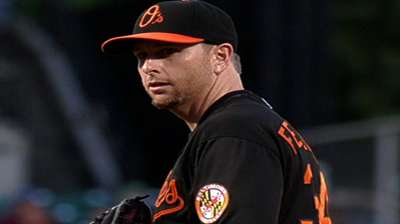 BALTIMORE -- The Orioles banged out three homers Friday night, and that's not unusual this season. But getting a shutout to go with it, now that's a little different.
Scott Feldman turned in one of the Orioles' best pitching performances this season in a 4-0 victory against the White Sox at Camden Yards. Solo homers from Chris Davis, Danny Valencia and Matt Wieters gave Baltimore all it needed offensively on a night when Feldman went the distance and shut down the fading White Sox.
The tall right-hander gave up five hits, none after Josh Phegley's two-out single in the fifth. Feldman (5-4) struck out three, walked one and needed just 106 pitches. Chicago (56-84) threatened only once and sent just one batter to the plate with a runner in scoring position as Feldman posted his first career shutout.
"The first time through, they were kind of taking the first pitch a little bit, then after that, they got a little more aggressive," Feldman said. "So I was able to try not to live in the middle of the plate, kind of to hit the corners and hope they'd swing and get some early outs that way. If I go nine or seven -- whatever it is -- as long as we win, it's a good game."
Feldman threw a complete game earlier this season -- May 1 with the Cubs -- but it's the first Baltimore shutout since Jason Hammel did it on June 16, 2012, at the Braves.
"He threw the ball real well," said Wieters. "He was able to cut it and sink it on both sides, mix in his breaking ball. He was in command all night. You could see it in his eyes, once he got through the seventh, he wanted to finish that game on his own."
The Orioles (75-65) also helped him with a number of good plays on defense. Second baseman Brian Roberts made a handful of tough plays that required difficult throws. They kept the runners off the bases and let Feldman move along.
Feldman is 3-1 with a 1.30 ERA in his last four starts, allowing up only four earned runs in 27 2/3 innings and giving the Orioles the consistent starting pitching they need.
The Orioles hit three solo homers for the second straight night, giving them six already in the first two games of this series. They're also 20-2 in games in which they go deep three or more times and pulled a half-game closer in the American League Wild Card race, pending a pair of West Coast games for Oakland and Tampa Bay.
Davis hit his Major League-best 48th homer, while Wieters added No. 21 and Valencia got his seventh. Seventeen of the last 18 Orioles runs have been scored on homers.
"I think it's just a combination of guys feeling a little bit of urgency and being aggressive in the right spots," Davis said. "Nobody's going up there expecting to hit home runs or trying to hit home runs. I think the biggest thing is trying to get a pitch to drive and letting the bat kind of take over."
Valencia got the Orioles started with his shot to left-center in the third inning. Chicago starter John Danks (4-12) retired the first eight Orioles on fly balls or popouts before Valencia blasted a 2-2 pitch for a 1-0 lead.
Adam Jones kept the Orioles on top when he threw out Jeff Keppinger at the plate in the fourth. Paul Konerko grounded a single to center, but Jones' throw nailed Keppinger to end the inning. The Orioles might have gotten a break, as replays appeared to show Keppinger touch the plate with his hand just before Wieters tagged him.
Valencia helped the Orioles make it 2-0 in the fifth. His infield single drove in J.J. Hardy with two outs. He hit a shot down the third-base line and Keppinger made a diving stop, but Valenica barely beat out Keppinger's long throw for his second RBI of the night.
Davis and Wieters then hit back-to-back homers off Danks with one out in the sixth. Davis lined a shot just inside the right-field foul pole, and Wieters hit one into the seats in right-center to end Danks' night and put the Orioles up, 4-0.
That proved more than enough for Feldman, on a night when the White Sox couldn't solve the veteran right-hander.
"We just couldn't get anything going," White Sox manager Robin Ventura said. "He was sharp. He had breaking stuff working early and got the ground balls when he needed it. At the end of the day, you have to tip your hat to him."
Jeff Seidel is a contributor to MLB.com. This story was not subject to the approval of Major League Baseball or its clubs.