Solo homers hurt Danks in White Sox shutout loss
Solo homers hurt Danks in White Sox shutout loss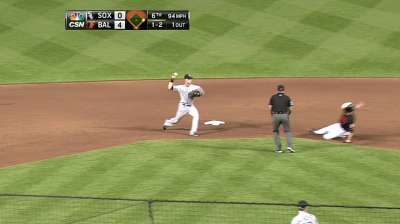 BALTIMORE -- Chicago lefty John Danks stood in front of his locker, shook his head and said there was not much anyone could do except tip their hat to Orioles starter Scott Feldman.
Danks allowed three solo home runs in just 5 1/3 innings, and the White Sox dropped their eighth consecutive game with a 4-0 loss to Baltimore on Friday night.
Meanwhile, Feldman picked up his third win in his past four starts by throwing the first shutout of his career, allowing five hits, walking one and striking out three in a complete game.
"Scott was good, man," Danks said. "He kept us off-balance, had a good cutter, and he was typical Feldman -- get ground balls. He was just on and able to throw all of his pitches for strikes. You just got to tip your hat and get them tomorrow."
It was the second consecutive night the Orioles connected for three solo shots against Chicago pitching. The White Sox, on the other hand, have been held scoreless for 15 straight innings against Baltimore.
Danks (4-12) was charged for four runs on seven hits with four strikeouts and one walk. The White Sox have now scored one or no runs in eight of his 21 starts this season.
Danny Valencia went 2-for-3 with a home run and two RBIs for the Orioles. Chris Davis hit his Major League-leading 48th homer and Matt Wieters connected for his 21st roundtripper of the season.
"It's my first shutout, so anytime something like that happens, it's something I'll always remember," Feldman (5-4) said. "Also, I'll remember all the plays the guys made behind me. I think [Brian Roberts] made about five or six great plays tonight. Me and Wiety went over the game plan beforehand and just kind of stuck with that. We were on the same page, so it was nice."
After retiring eight consecutive batters on fly balls or popouts to start the game, Danks allowed a two-out home run to Valencia in the third, and the White Sox trailed, 1-0. It was the 15th consecutive run the Orioles have scored via the homer.
"I'm feeling good," Valencia said. "I'm just more happy that we are winning. Now is the time we need to put together a good streak of wins. We are doing it. And it's nice to be a part of it."
The White Sox appeared to tie the game in the fourth on a single by Paul Konerko, but Jeff Keppinger was called out at the plate on a throw from center fielder Adam Jones as he tried to score from second. Replays showed Keppinger beat the tag by Wieters, despite the ruling by home-plate umpire John Hirschbeck.
"I thought I beat him to the plate," Keppinger said. "I thought I got my hand in there. It happens. It seems like we have a lot of calls go that way lately. [Feldman] threw strikes. He attacked the strike zone and we weren't really able to hit him too well. He hit his spots pretty good and kept us off-balance. We obviously have not been very good offensively this year and it shows."
Valencia provided a 2-0 lead on an infield single with two out in the fifth, snapping the O's streak of consecutive runs scored via the homer. Davis and Wieters started a new streak with back-to-back home runs in the sixth for a 4-0 lead.
White Sox manager Robin Ventura said the difference in the game was Feldman, who seemed to have all of his pitches working.
"We just couldn't get anything going," Ventura said. "We got a couple of hits here and there, but nothing with anything on it. He was sharp. He had breaking stuff working early and got the ground balls when he needed it. At the end of the day, you have to tip your hat to him."
Todd Karpovich is a contributor to MLB.com. This story was not subject to the approval of Major League Baseball or its clubs.